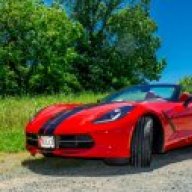 Joined

May 13, 2003
Messages

610
Location
Corvette

2014 Convertible
Maintaining the Convertible Top
By Collin MacDonald
F
or some reason the convertible top is about the last thing people think of when they go through the normal routine of cleaning their cars or preparing them for winter storage. Now that winter is fast approaching, this is the perfect time of the year to clean and preserve the convertible top. Most of us think the convertible material is fragile and it often scares us to even think about cleaning it, never mind treating it. So I thought I would sit down and write this article for you, after all its much cheaper to buy and use the materials I am going to talk about and recommend, then buy a new top.
Corvettes have two types of top material, the canvas or clothe type (used as black top) and/or the vinyl/plastic type (used on white tops), and the newer Corvettes have glass in the rear windows, while the older Corvettes use for the rear window clear plastic.
So these are the types of materials used. Now lets start with the basics, remember that book that you find in the glove box, called an "Owner's Manual", well my first recommendation is to read it. They have a wonderful section on how to clean and maintain the top. They also recommend what to and what NOT to use on the care of the top. Please take the time and read you manual, its boring, but does offer great information.
Where do I start?
I bet you thought we would start be scrubbing the outside top right? Wrong, the best way to approach this is to start from the inside. The convertible top inside the car is a great dust collector. Start with the folds and corners near the back and work forward. Using a shop vacuum with the duster brush attachment and a damp towel with a couple of sprays of Simple Green or similar all purpose cleaner, attach those folds and corners. Us the vacuum to start, then wipe the areas lightly. You will find the rods and support braces, clean those with the towel, just a light wipe. Eventually you will come upon the rear window. If you have glass, just clean it like any glass window. Now if you have plastic, very special care has to be take, because that plastic scratches very easily. Just use a damp cloth (terry 100% clean towel, NOT paper) and a dry terry cloth to wipe dry. DO NOT use and ammonia base window cleaner on plastic windows. Now if you have heavy grimed yellow plastic windows, you can purchase special cleaner designed for clear plastic rear windows. You can purchase this from Ecklers, Mid-America, Zip etc. See the end of this article for recommendations of various types of products.
Don't Forget Those Support Frames
The next step is to clean the parts you missed on the inside when the top was in the closed position. The next step is to open the top part way and clean the surfaces that you could not reach when the top was secured. The rear window deck, the top of the windshield were it fastens to the car, the painted and some cases chrome or stainless steel surfaces. I highly recommend using windex or a window cleaner for the stainless or chrome areas that are bright. Remember that painted surfaces, like the rear hatches on Corvettes that are painted can be polished once cleaned. Obviously painted surfaces should be cleaned with car wash and a sponge. Then rinse with clean water. Next you have various rubber parts that need to be treated with silicone. Just put some silicon on a fresh soft rag and wipe it on, removing heavy access. It should have a nice smooth even shean to it. Again weather stripping and rubber products are coated with silicone. Plastics and vinyl panels should be cleaned with light soap and rinsed with clean water, then you can use a vinyl preservative, like "Mother's" "Black is Back", or other vinyl preservatives, Zaino has a very good one used for vinyl and another for plastic.
The Outside, Cleaning the Vinyl and Canvas,They Are Different.
Finally the outside of the convertible top is the last to be cleaned. How you clean the outside depends on the material the top is made of.
Cleaning a Vinyl Top
. Simply put if you have a vinyl top it feels like plastic, not cloth. If you have a Vinyl Top, is should be cleaned with a medium strength all-purpose cleaner diluted, such as Mr. Clean, Fantastic, etc. Of course they sell top cleaners, but I found them to be overpriced and you get the same results. The key to cleaning the top is two things, letting the detergent do the job, and scrubbing it with a soft bristle hair brush. I found the best place to purchase these types of brushes is at "Home Depot". Vinyl tops seem to attract more road dirt and grim then top materials, so you just have to use good old "elbow" grease to get them clean. I found it much better to wet down the whole car so the dirt does not end up on the paint as you clean it. Most likely you will have to repeat the steps of cleaning the top several times, but the dirt will come off. So remember to be sure to spay down the entire vehicle first, being careful with you scrub brush not to scratch the painted surfaces, only use on the vinyl top, proceed to either spray the cleaner on the top, or soap it down with a sponge and scrub away. Now hear is the most important part of the vinyl process. You always must follow the scrubbing with a good rinsing, getting all the soap off the top, then apply an good application of vinyl top dressing. Again this dressing can be purchased from any Corvette supplier or found at automotive stores, doubt you will find it a Wall-Mart. As you have guessed, vinyl is much harder to maintain then canvas tops.
Canvas or Cloth Tops
- Canvas is made of a cotton blend, and feels like a cloth material. Canvas will clean easier then vinyl, but does have one serious draw back, you can weaken the threads if you clean it to hard. So how do you clean the canvas top, usually the black top of a Corvette. Depending upon how you clean the canvas, you can weaken the threaded material. So I use one of those car washing mitts for canvas tops. You know the lamb wooly mitts with just regular car wash, I use the Zaino Bros. car wash, but any type will due, as long as you get a good soapy solution. I use about two caps for a 5 gallon water bucket, this renders a mild solution.
Now like any type of material, canvas will stain, if such things like bird droppings, or tree sap has a chance to set a while. If you have visible stains then you will have to use a stronger solution then just car wash. Use the same solution I suggested above for vinyl cleaning, a diluted solution of all purpose cleaner with a soft scrub brush. The difference is you must scrub softer then you do with vinyl. If the stain is not removed after two tries, then you will have to live with that stain. If you persist and scrub hard you will weaken the fibers of the canvas that will cause it to tear, or leak. Remember the canvas tops used on convertibles today use a blend of cotton and plastic fibers that can be damaged easily.
I use 3M Scotch Guard on my canvas top, about once every two years, if stored in a garage and NOT exposed to the elements. Covering the rear window, and immediate painted surfaces with newspaper, I simply spray on two light coats of 3M Scotch Guard, that you can buy at any Grocery Store. This caused the water to bead up and fall off and does protect against bird droppings, tree sap, and road grim such as tar and grease.
NOT Done Yet!
One other thing, if you have exposed convertible to mechanism, the support bars that pivot or collapse, then use some WD-40 to lubicate the joints. This will provide a lubrication barrier for the wear and tear of these joints when the top goes up or down. Don't forget to lubicate the convertible lid or door that opens and closes in the back to store the top. Also, the latch area should be grease with a light grade grease so the release wire does not fray. Use it sparingly.
The convertible top is fairly easy to maintain, but does take a little time and you must understand the differences between the vinyl and canvas tops. I think if you follow these instructions your top and rear glass or plastic will last you for years.
Summary
Remember this Canvas or Cloth tops can stain, vinyl tops can become abraded, and the wrong combination of chemicals or non deluited chemicals are used, it can even damage the stitching. Exactly what to use has long been a concern for convertible enthusiasts, who understand fully that cleaning and protecting the exterior top is an absolute necessity. Some products contain chemicals, such as bleach, that can over time cause pre-mature deterioration of fabrics and stitching. They can also cause the tops to fade, forever robbing them of their original luster. Below is a list of recommended list of products and vendors.
See Part II for recommended products....