On our '82 the passenger door latch mostly looks like this:
One can feel spring tension when it is depressed and it returns about half way home consistently. Sometimes it will return to the full rest position (in line with the top of door) but not always. It does, however, always fail to open the door.
Took the panel off today to lube the window tracks and regulator as well as trouble shoot this problem. I expected to find the rod not connected to the door latch but this was not the case. Everything was where it was supposed to be, it even moves the latch mechanism just not enough to open. Here are the best photos I could manage this afternoon: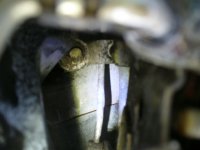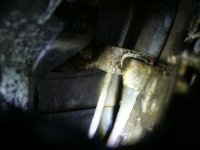 Any help on how to proceed will be appreciated.
Last edited: