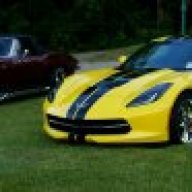 Joined

May 11, 2006
Messages

1,178
Location
Corvette

2016 Corvette Racing Yellow, Z51, OURS C7
I came out of Best Buy yesterday, pricing radar detectors. I have to get ready for the Dragon trip ya know.
OK, back to my story, as I'm walking out the door into the parking lot, I see 3 guy (in their mid 20's) with cameras taking pictures of my car. It was parked well out from the building.
As I continued to walk, they each took turns to pose one at a time, with an elbow resting on the roof and a BIG smile on their face. They were so involved in what they were doing that they never even noticed me walking up. I was only about 20' away when they took their last picture and with big smiles on their faces and talking in a foreign language that sounded middle-eastern, they continued walking away from me. They never even knew I was there.
When I got in and started it up, they turned to look. I drove past them leaving the parking lot and they all smiled and waved. I returned the smile and the wave.

Say... you don't suppose they were checking out the C6, to fly it into some building or something do ya? ...na... :L
Hecox