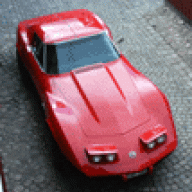 Joined

Feb 20, 2002
Messages

247
Location
Corvette

1974 red coupe, 1969 yellow vert
Anyone whos has experience of fitting a new seal kit to the power steering slave cylinder?
I recently bought a new seal kit since my cylinder was leaking oil. The kit was two seals (rubber with metal reincorcment), and a snap ring.
Dismantling my cylinder, I found (inside and out):
Inner seal, metal washer, outer seal, metal washer and a snap ring.

The inner seals was identical, but the old outer seal was made by a soft organic material, and slightly thinner that the new one.

The trouble is that since the new outer seal is a bit thicker, it will be hard or impossible to fit all the parts. Is it possible to exclude the middle metal washer, or what is the function of this one??
I cannot really see the function of it, since all the parts are bundled together, and are not moving anyway.
Maybe the new seal has the same function as the old seal + the washer together, since it has a metal reinforcement inside??

Also I am not sure of the orientation of the outer seal, but I guess it should be mounted with the "open" side (the cross shape is like a U) towards the center of the cylinder. Or??