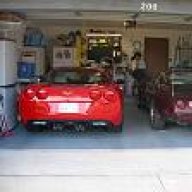 Joined

Jan 3, 2004
Messages

697
Location
Corvette

Early 1976 L-48, 2008 Victory Red
OK, I know we have talked about this a lot already but just want to make sure I have it right. I got all the parts today, thanks to Mike at Classic Corvette Parts, new valve and hoses and rebuilt cylinder. I am going to do the replacement tomorrow or Thursday here is what I believe I need to do:
Jack car
Drain fluid remove old parts (Mike suggested that if the hose's are hard to remove just cut them as to damage any rebuildable parts)
Install new parts but leave cylinder unattached
Fill pump with fluid
With wheels off the ground start car and rotate steering a couple times
Check fluid fill as needed and repeate
Attached cylinder and drop car
Drive, if it pulls at all rejack car and check centering of valve
(Mike says to drive it a little as the valve has grease in it and it make a little bit to work the grease loose)
Adjust valve if needed
Drive it!!!!!!!!!!

Is that about correct????