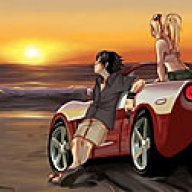 Site Administrator
Staff member
Administrator
Joined

Sep 16, 2000
Messages

13,763
Location
Corvette

1990 Corvette ZR-1
From the September 5, 2002 edition of the Detroit Free Press:
http://freep.com
:
Anniversary 'Vette tops its sports class
Power, shock absorption set 5th generation apart
BY LAWRENCE ULRICH
DETROIT FREE PRESS AUTO CRITIC
Some cars you drive. Others you look forward to driving.
So it was -- and is -- with the Chevrolet Corvette. There's just something about this car. A keen awareness of and respect for its awesome power. A swagger and satisfaction that goes beyond objective performance, impressive as it is in this fifth generation of the 'Vette.
A bit of that comes from its half-century history, filled with racing lore, beloved models and the undiminished loyalty of Corvette fans. That history did have rough patches, including most of the '70s and early '80s, when the Corvette lost its muscle and became a porky parody of itself.
But since 1997 especially, when the current C5 model debuted, the Corvette has reclaimed its birthright as America's Sports Car. And to celebrate a big birthday, Chevrolet unwraps a 50th Anniversary Edition for 2003.
Chevy expects this special package to be ordered on as many as one-third of the 32,000 Corvettes it plans to build this year.
It's a $5,000 option in coupe and convertible models but unavailable in the notchback Z06. It boosted the price of my tested convertible to $55,370 from a base of $49,700.
The birthday bash began in Santa Barbara, Calif., where I tested a manual-transmission anniversary model before heading north with an automatic on the postcard-pretty Highway 1 to Monterey and Pebble Beach.
Like most commemorative Corvettes, the 50th anniversary car is largely a cosmetic upgrade, with one notable addition: Magnetic Selective Ride Control, a suspension technology originally destined for the sixth-generation Corvette coming in mid-2004 as a 2005 model.
The anniversary edition comes in a single color, a sparkling ruby that Chevy calls Anniversary Red. The model also gets a pale beige interior (on convertibles, a matching fabric top), champagne-toned wheels, embroidered badges on seats and floor mats and padding on door armrests and grips. A 50th anniversary emblem is affixed front and rear, a feature shared by all 2003 Corvettes.
The package also bundles options such as memory for seats and other functions, tilt and telescoping steering and the head-up display that projects speed and other information onto the windshield.
Magnetic Selective Ride Control is standard on the anniversary edition, optional on stock coupes and convertibles.
Here's how it works: Its Delphi shock absorbers are filled with a fluid containing tiny metal particles in suspension. Applying an electromagnetic force makes the particles line up, increasing the fluid's resistance and thus firming up the shock absorber. Dialing back the magnetic charge lets the fluid flow easily, softening the shock.
The system analyzes wheel movements and reacts with microchip speed, able to adjust shock settings over a dramatic range in the time it takes the Corvette to cover one inch of roadway at 60 m.p.h. That keeps the Corvette's body flatter over bumpy roads or big dips and the tires in secure contact with the road.
In 1996, Chevy added optional real-time damping to the Corvette. But that system relied on much-slower mechanical valves rather than the magnetic fluid. The system didn't affect ride or performance very much.
This time, it really works. Two settings, Touring and Sport, are selected with a dial on the console. On lumpy pavement, the Touring setting ironed out the nastier bumps in a mild but noticeable way and had a more relaxed feel.
Ditto the Sport setting, which let the Corvette respond more quickly to the steering wheel on Highway 1's cliffside curves and take corners a bit flatter as well.
The system is mated to the base FE1 Corvette suspension, which isn't as stiff and athletic as the optional Z51 suspension. I'd still opt for its sportier set-up. But for many drivers, the magnetic suspension will strike the ideal compromise between smooth ride and taut handling, especially on lousy Michigan pavement.
Now seven years into its model life, the C5 has built a near consensus as the world's best value in high-performance sports cars.
Power is unchanged, but we're talking 350 giddy horsepower from the 5.7-liter LS1 V8. The 0-60 m.p.h. dash takes less than 5 seconds, closer to 4 seconds for the mighty Z06. Top speed in manual-transmission models approaches 175 m.p.h. Acceleration, braking and handling equal or exceed most Porsches or Ferraris, a point proven in objective racetrack testing.
But despite the Corvette's huge strides in performance and refinement, I'm always surprised how many people still associate Corvettes with crude power, a miserable ride and a lack of creature comforts.
A few facts that continue to surprise many people who ask me about new Corvettes:
Yes, powerful rear-wheel-drive cars like Corvettes were once prone to spinning tires or spinning into a ditch if driven injudiciously. But modern suspension and stability control systems give new Corvettes uncanny balance and security. That's true even in wet or snowy conditions. Add a firm but comfortable ride, and the Corvette proves a pleasant daily driver.
Fuel mileage is shockingly good for a 350-horsepower sports car. Corvette coupes and convertibles are rated at 28 m.p.g. on the highway for manual models. Even automatics manage 25 m.p.g. Combined city-highway mileage is 23 m.p.g. for manual models, including the 405-horsepower Z06.
Luggage space is outstanding, especially in the coupe but also in the convertible, which must carve out room for the lowered top. The Corvette has room for only two passengers, of course, but the coupe can hold 25 cubic feet of cargo in its huge hatch. That's more space than the trunk of any passenger car sold in America, including big Caddys and Lincolns.
Once again, it's the interior that has me looking forward to improvements in the upcoming C6. The cabin is extremely roomy and comfortable for two. Controls are well laid out.
But the so-so plastics and interior feel are the main areas where the Corvette still has some catching up to do.
My Corvette for the Monterey jaunt featured the four-speed automatic transmission rather than the able six-speed manual. While an automatic in a Corvette is the equivalent of decaf espresso -- what's the point, exactly? -- it's worth remembering that, excluding the Z06, automatic Corvettes outsell manuals by two to one.
Too bad the Corvette's automatic is falling behind the sports-car times. With just four forward speeds, there's too much spacing between gears, especially for a car that likes to stretch its legs. Worst of all, there's no real ability to select gears manually. While I'm not the hugest fan of manumatics, the latest versions, notably on Audis and Mercedeses, are becoming surprisingly fast and useful. As a world-class sports car, Corvette automatics demand driver-selectable gears, preferably on the steering wheel.
It's to the Corvette's credit that the car remains a joy on the road, even with the lever stuck in drive.
But hey, I'd be driving the six-speed anyway, so for me it's moot.
With the sixth-generation car coming, the C5 may be nearing the end of its eight-year life. But there's thrilling life left in this Corvette.
This isn't just America's best sports car. It's probably its best car, period, with the strongest claim as tops in its class.
CORVETTE SPECS
Vehicle type: Front-engine, rear-wheel-drive sports car
Key competitors: Porsche Boxster and 911, Nissan 350Z, Dodge Viper, Ford SVT Mustang Cobra, Mercedes SLK, BMW Z3.
Base price: .... $49,700
As tested: .... $55,370
Standard equipment:
Antilock brakes, traction and stability control, run-flat tires, leather, AM-FM-CD audio, dual-zone climate control, tire pressure monitor, power seats, power windows and locks, power/heated mirrors, remote keyless entry, cruise control, intermittent wipers, driver information center, fog lamps.
Options:
50th anniversary package ($5,000) includes Magnetic Selective Ride Control; Anniversary Red paint; unique badging, interior, seats, wheels and floormats; memory package; head-up display; tilt and telescoping steering; electrochromic mirrors and twilight sentinel
Specifications:
(convertible automatic) (Manufacturer's data) Engine: .... 5.7-liter V8,
.... 350 horsepower, 360 pound-feet torque
Fuel economy:
.... 18 m.p.g. city
.... 25 m.p.g. highway
Curb weight: .... 3,248 pounds
Wheelbase: .... 104.5 inches
Length: .... 179.7 inches
Width: .... 73.6 inches
Height: .... 47.8 inches
Where assembled: .... Bowling Green, Ky.
2003 CHEVROLET CORVETTE 50TH ANNIVERSARY EDITION
Rating:
FOUR out of 4 stars
Celebrating a half-century, the Corvette has become more than an American icon. It's truly one of the world's best sports cars.
Bragging points:
Tremendous all-around performance. Useful cargo space. Surprisingly good fuel mileage. Costs far less than main competitors.
Nagging points:
Plasticky, mediocre interior. Old-school automatic transmission lacks manumatic function. Stubborn console lid.
Contact LAWRENCE ULRICH at 313-222-5394 or
ulrich@freepress.com
September 5, 2002