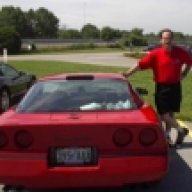 Joined

Oct 30, 2001
Messages

2,273
Location
Corvette

1986 Bright Red Coupe
Those of you who've seen pix of my Vette's interior know that the steering wheel is rather shabby. Rather than drop $300 on a replacement, I decided to look at steering wheel covers.
I settled on one made by Wheelskins (
www.wheelskins.com
) and sold through Cruise Control Auto Accessories (
www.cruisecontrolauto.com
- they have a discount available to Corvette Forum members; not sure if they do for here as well). I paid $33.75, shipped, for their two-color (Eurotone) model.
Anyway, it looks good. The skin is specifically for the C4 Vette (and I think varies for the variosu wheel sizes as well). It does require stitching into place, but they provide very thick waxed thread and a good needle.
Only real issue is that it doesn't lay quite right around the spokes because they're fairly wide. Then again, I may not have installed it quite the best.
So. It installed in about 45 minutes of repetitive stitching and is nice and tight. I chose black and sand, which is the closest I could get to saddle. I like.
Also, the guy at Cruise Control Auto is very nice. When he saw my original order (black/light oak) he wasn't sure it would match my interior well enough so he *called* me from Georgia to check, and then sent me out a couple of different color samples. I emailed him with my corrected choice on Thursday, and the skins were waiting when I got home from work Monday.
Anyway, I can provide pix if anyone's interested, but this seems like a decent alternative to a new wheel. The spokes are still munged, but at a 10th of the cost of replacement, I'm satisfied.