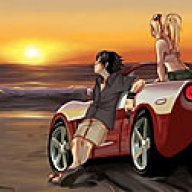 Site Administrator
Staff member
Administrator
Joined

Sep 16, 2000
Messages

13,886
Location
Corvette

1990 Corvette ZR-1
Racing Champions(R) Teams Up With General Motors to Celebrate the 50th Anniversary of the Chevrolet(R) Corvette(R)
GLEN ELLYN, Ill., Dec. 17 /PRNewswire/ -- Racing Champions (Nasdaq: RACN), today announced it will produce certain 50th-Anniversary Corvette die-cast replicas and die-cast and plastic model kits under an exclusive trademark license from Chevrolet Motor Division of General Motors. Racing Champions is scheduled to release these special 50th-Anniversary Corvette replicas and model kits under its American Muscle(TM), AMT(TM), and Body Shop(TM) brands, beginning in June 2002.
"We are delighted to be teaming up with GM to celebrate this important occasion," Robert Dods, Chairman and CEO of Racing Champions, said. "Corvettes have endured the test of time, and they've led the market in performance and styling for nearly half a century. Our 50th-Anniversary Corvette program will include milestone Corvette vehicles and will help collectors experience the exciting heritage of this exceptional American sports car." Dods concluded, "Anybody who's ever longed to own a Corvette is going to love collecting our replicas and building our die-cast and plastic model kits."
From the day it was introduced in 1953, the Chevrolet Corvette has been an American legend, famous the world over for its sleek good looks and powerful engines.
Racing Champion's exclusive 50th-Anniversary Corvette product lines will include:
-- 1:18-scale American Muscle die-cast replicas. Authentically detailed with opening hood and doors, detailed engine, and authentic paint schemes; presented in a custom-designed 50th-anniversary package.
-- American Muscle's Body Shop line of 1:18-scale die-cast kits in special 50th-Anniversary packaging featuring replicas pre-decorated in factory- authentic colors.
-- AMT plastic model kits in 1:25-scale capturing the engineering and design details that made the original car so unique.
Besides these exclusive entries, Racing Champions will also be producing Corvette 50th-Anniversary 1:64-scale die-cast replicas and kits. Founded in 1989, Racing Champions (
www.rcertl.com
) is a leading producer and marketer of innovative collectibles and toys sold in multiple channels of distribution and available at more than 20,000 retail outlets. The company sells American Muscle(TM) collectible die-cast vehicle replicas; Racing Champions(R) NASCAR and NHRA die-cast racing replicas, souvenirs, and apparel; officially licensed die-cast and preschool products based on automobiles, trucks, agricultural, heavy equipment, and powered recreational and sport vehicles under the Ertl(R) brand; AMT(TM) model kits; and Press Pass(R) trading cards. High-profile licensing partners include General Motors(R), NASCAR(R), NHRA(R), John Deere(R), Case IH(R), Polaris(R), Honda(R), Caterpillar(R), Ford(R), Chrysler(R), Texaco(R), and Warner Brothers(R). General Motors Trademarks used under license to Racing Champions Ertl, Inc.