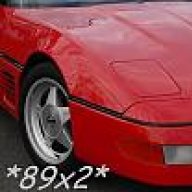 Joined

Feb 18, 2002
Messages

10,357
Location
Fellow enthusiasts - I thought I would share some photos of a VERY unique Corvette that recently was uncovered for the world to see (again).
The car, a 1995 Chevrolet Corvette, languished on the lot at Delphi, a General Motors supplier who worked on some of the electronics of the Vettes of that era. Remembered by one of the engineers there at Delphi, he recently made sure the car made its way to Kentucky, and was donated to the National Corvette Museum over the Labor Day holiday weekend.
The car is prototype number 003 from the Grand Sport project and although it is a 1995, it is fitted with many parts that found its way into production for 1996. Items including the F45 suspension were taken from idea through design and application on this car. Molded export flares were added, and there is an LT4 engine within its front frame rails. While some of the ideas made production, others did not. The body colored door handles did not make the cut, and the seat embroidery was changed for final production.
Wearing Admiral Blue paint, the stripe was never applied to this car, as the final design had not been determined then. The earlier 001 and 002 cars, wore different stripe designs from production schemes, each failing to make the leap to RPO content. Sharp eyes will notice the wheels do not match the car and also are much narrower than a performance model like this should have on it. The reason for this is the original wheels were "borrowed" for another project while the car was on that back lot, never to be seen again. While the dry rotted tires got the car to the museum, hopefully they can be changed for something else in due time.
General Motors has not been in the business of donating cars and in fact, when this cars whereabouts became known, the general wanted it back. That keen Delphi engineer claimed Delphi owned the car, not GM and when he showed proof of a sale from GM to Delphi for the nominal amount of one dollar; the dispute car was over. Delphi gave the car to the NCM for free
Enjoy this glimpse of Corvette history, as the car was one of the rarely seen "mules" that eventually lifted Corvette performance to a higher level.