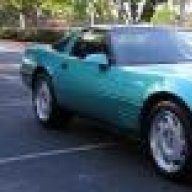 Joined

May 18, 2003
Messages

312
Location
Corvette

1991 Turquoise Metallic Coupe
My 1991 seems to have three sources of interior noise:

The drivers side mirror vibrating.
The exhaust resonance.
And a "ticking" noise coming from the rear hatch area.

The ticking sounds like something is hitting either the metal latch or glass. It happens when the car is riding on bumpy pavement and/or uneven concrete slabs so common out here in Southern California's freeway system. It's very annoying and I would like to fix the problem.

Has anybody ever had this same problem? If so, have you figured out how to fix it or what part needs to be replaced to eliminate the ticking noise? Sounds to me like a loose latch, that's all but I'm not 100% sure.

Would appreciate any help.