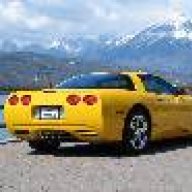 Joined

Dec 9, 2002
Messages

801
Location
Corvette

2006 Velocity Yellow
I just replaced the 3.5in speakers in the front doors of my car. It is a pretty straight-forward operation except that the door panels make some scary noises as they are being pried from the door frame. Having the correct tool helps here. I bought an Am-Pro panel removal tool from my local Advance Auto Parts. The same tool can also be used to remove the tabs holding the insulation under the hood if you choose to paint your liner.

There are 2 #30 torx screws holding each panel to the door frame. On the driver door they are both behind the trim plate hiding behind the door pull. On the passenger side one is in an opening above the cargo comparment on the door. For the other you have to remove the door opening switch.

The speakers themselves are attached to the door panel with 4 screws. The connectors are a special type of GM connector. I removed the wires from the connector and added female spade connectors to the wires. In the driver door the negative (-) is light blue and the positive (+) is dark blue. In the passenger door the negative (-) is dark green and the positive (+) is orange.

Most replacement speakers have spade-type connectors, one larger than the other. The important part when reconnecting the speaker wires is to conect the same polarity + or - to the same size connector on each speaker. Both negatives (-) to the larger connectors for example. Otherwise the speakers will be out of phase with each other and the sound will not be clear.

It is a bit tricky to get the top clips on to the railings as you re-install the door panel. But the entire process can be done with the window down which helps. I also did one door at a time so i could see the other for reference as I was re-installing the door panels.

I can hear a difference in the sound. To me it sounds fuller and more crisp. Especially the highs. My speaker of choice was Rockford Fosgate Punch. Number P132C. They are a direct fit with no modifications needed. The bose door speakers are 4 ohm speakers as are the Rockford Fosgates. (Actually, both the bose and Rockfords read 3.4-3.6 ohms on my multimeter) I would not recommend using lower resistance speakers as the amp in the head unit might not be up to the challenge of producing enough current.

I wish I had pictures of this for you to see. But the process is straight forward and it took me about 2.5 hours taking my time.