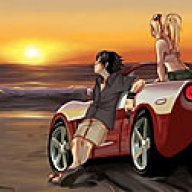 Site Administrator
Staff member
Administrator
Joined

Sep 16, 2000
Messages

13,780
Location
Corvette

1990 Corvette ZR-1
2006 Chevrolet Corvette Z06
Sound and fury…signifying everything.
by Paul A. Eisenstein
(2005-10-17)
In everyone's life, there are moments you'll always recall with a special clarity: a moon walk, a presidential assassination, your wedding day, the birth of your first child. My list also includes the first time I ever sat in a Corvette.
They were a familiar sight in my house, where both parents routinely tuned into that "Nick at Night" favorite
Route 66
. But it wasn't until they took me to the 1964 New York World's Fair that I actually got to see a real Corvette, sit in one, and pepper the very polite General Motors spokesman with questions.
Sadly, by the time I was old - and just barely affluent - enough to afford a Corvette, my interests had wandered. " America 's sports car" just couldn't compete with the likes of the Porsche 911 or so many other high-performance imports. Not until recently, at least, when Chevrolet pulled the wraps off the sixth-generation 'Vette.
The C6 redefined Chevy's classic; notably shorter, significantly more refined, and decidedly more powerful, it seemed painfully close to pulling off a coup, but the 2005 model just wasn't quite there yet. Now, for 2006, the automaker is back with what a lot of folks are calling "the ultimate Corvette," and for good reason, as I discovered during nearly a week of driving the new Z06.
Evolution in action
The "base" C6 was what stylists like to call an "evolutionary" design, carrying over most of the prior-generation's visual cues, including the low-slung nose, arching, cat-like, towards the massive rear deck. Most distinctive were the aero-flush headlamps, which replaced the pop-ups that had been a Corvette signature since my youth. What was less obvious was the fact that the new sports car was six inches shorter, making it roughly the same size as the 911.
With the Z06, the silhouette is virtually the same, though from the rear, it's immediately apparent the car has gained girth - an extra 3.3 inches, to be more precise. That provides the room necessary to house a pair of enormous 325/30ZR-19 tires (up front, this steed is shod with 275/35ZR-18s).
A closer look reveals additional details designed largely with aerodynamics in mind. There's the deep front spoiler, and a small rear spoiler. Chevy engineers have put a lot of emphasis on the underbody, as well. That's a good idea considering you want to keep the Z06 firmly planted on the ground when you approach its 198-mph top speed.
The Z06 gets special air scoops on the hood and air scoops to help cool its oversized brakes, as well. They're 14-inch cross-drilled front discs with six-piston calipers and 13.4-inch cross-drilled rear rotors with four-piston calipers. Any good supercar should be able to stop even faster than it starts.
Carbon-fiber shaving
What you're not likely to notice - unless you've got an engineering degree - is what's under the paint. Weight is the enemy when it comes to performance, and chief engineer Dave Hill's team did an admirable job putting the Z06 on a diet. They shaved 132 pounds off the unibody alone by switching from steel to aluminum. There are hydroformed pieces, and magnesium crossmembers. Carbon fiber now skins the balsa-core floor panels and serves as the front fenders. All told, the Z06 weighs in about 100 pounds lighter than the stock V-8 coupe, and boasts a perfect 50-50 weight balance. With a curb weight of 3130 pounds, it's actually lighter than Porsche's Carrera GT supercar.
Incidentally, shaving all that weight is one reason Chevrolet was able to bring the new Z06 in without having to pay a gas-guzzler penalty. The car gets a reasonable 16 mpg on city streets but an impressive 26 mpg on the highway.
Pop open the electrically-operated doors - there are no door handles in the traditional sense of the word - and you'll spot the striking Z06 embroidery highlighting an interior available only in ebony. You slip into a seat that's got plenty of lateral and lumbar support. You'll need it.
Punch the Start button and the new 7.0-liter LS7 V-8 comes to life. At idle, the engine burbles confidently, but this is a feral cat, and all you have to do is squeeze the throttle to get an idea of what's within reach. As the engine revs, bypass valves open, transforming the reasonably tame exhaust note into an ear-ringing roar.
General Motors is one of the last true believers in pushrod technology. If anything justifies this persistence, it's the LS7. The engine isn't particularly high-tech, though for the Z06, Chevrolet engineers adopted titanium connecting rods and intake valves. Virtually every element in the drivetrain has been beefed up to handle a bruising 505 horsepower and 470 pound-feet of torque. The radiator has been enlarged, as well, and the LS7 gets a dry sump oil system to ensure consistent lubrication, even in sustained high-speed cornering.
The big V-8 is mated to a quick, smooth-shifting six-speed manual. No automatics on this car, not even with F1-style paddles.
Ultimate Woodward
Slipping onto Woodward Avenue for the first time, wheel-deep in rush hour traffic, perhaps the biggest surprise was how well-mannered the Z06 was, something I came to appreciate over the course of the short week. At each light, though, I found myself idly thrumming the throttle, which caught the attention within a several block radius, including my small town's policeman.
Finally, a spot at the front of the line. The light goes green and the pedal hits the floor. With an enormous roar and an ear-splitting squeal, the Z's tires spin briefly then catch, the tail lurching to the left. Not for long. The traction system catches quickly, nudging things back in line. But the message is recorded.
One thing a Z06 driver will learn quickly is that like any good athlete, those enormous rear tires like to warm up before they perform. It doesn't take long, but I found it made a big difference in handling, both from a dead start, and while cornering.
Whether on a track or a windy back road, the Z06 is enormously capable. And here's where Corvette has made the most gains. It's now delivering a lot more than just straight-line acceleration.
The Z can still take you by surprise, though especially if you're pushing the limits of adhesion. It's not difficult to nudge the 0.98g that Chevy claims for a corner. I saw the in-car G-meter top 1.0 several times. But at that ragged edge, the tail can slip out from under; not far and not for long, and it's surprisingly easy to bring things back under control. But you'll certainly feel a flood of adrenaline the first couple times it happens.
In fact, Chevy has made it easy to hang the tail out, if you wish, using a multi-stage stability control system. In the performance mode, you have to really get in over your head before it will intervene.
Overall, the Z06 is surprisingly well-behaved, though certainly not tame. Steering is a bit more numb than some other high-end sports cars, though it's still a case of point-and-shoot. Cornering is flat and smooth and with rare exception, predictable. Even in a slide, you quickly get to know what to expect and how to reign things in.
The brakes, as mentioned, are huge, and do everything you want them to. You'll stop fast and smoothly. Better yet, they showed no sign of fade, even after a series of 100-0 stops and one fast maneuver from close to 150.
While we didn't have a chance to accurately measure acceleration, Chevrolet claims a 0-60 time of 3.7 seconds. So far, that seems right about in the middle of what our media colleagues have been reporting. That would make it among the fastest cars on the road, off by only a few tenths compared to cars costing three to five times as much.
We have a few minor complaints. The transmission tunnel gets surprisingly hot and downright unpleasant after some serious performance driving. And you want to keep that transmission from lugging, which will make the sort of raspy rattle you'd more likely expect from an old Chevy sedan. The push-button electric door mechanism also gave an occasionally stutter, which was not the most reassuring thing that could happen.
But those problems, as Humphrey Bogart might have concluded, "don't amount to a hill of beans." If the Corvette Z06 isn't the absolute best sports car on the road, its arguably the best value for the money. It's fast, nimble, slick, and sophisticated. Better yet, it's delightfully affordable. At $65,000 (plus $800 in destination charges), it's about $16,000 less than the Dodge Viper, and undercuts even the lowest-priced 911 by $6,000.
It's been a long time since I first fell in love with the Corvette. In my heart, I must admit, I've always wanted to see the 'Vette succeed. It's taken a long wait, but the Z06 finally gets there. Finally, a truly world-class American sports car.
2006 Chevrolet Corvette Z06
Base price:
est. $65,800 (with destination)
Engine:
7.0-liter LS7 aluminum V-8, 505 hp/470 lb-ft
Transmission:
Six-speed manual, rear-wheel drive
Length x width x height
: 175.6 x 75.9x 49.0 in
Wheelbase:
105.7 in
Curb weight:
3130 lb
Fuel economy (EPA city/hwy):
16/26 mpg
Safety equipment:
Dual front airbags and passenger sensing system; anti-lock brakes, traction control, and stability control
Major standard features:
Dual-zone air conditioning; HID headlamps; power windows, locks and mirrors; power seats; AM/FM/CD with MP3 and XM with one year free service; cruise control; painted aluminum wheels
Warranty:
Five years/60,000 miles