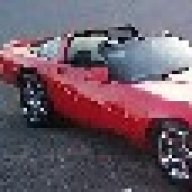 Joined

Dec 11, 2001
Messages

140
Location
Corvette

Red 96 LT4 coupe
I've been thinking of swapping my 3.45 gears for 4.10 or higher, and in my research, a couple questions have come up that I don't have answers to.

#1 Why do gear companies (such as richmond gear) sell dana 44 ring and pinion sets for $150 give or take, and when I shop for the same thing at tuners like Doug Rippie and TPiS they are gonna cost me $400 give or take.

Are these different types of gears, or are the vette guys charging high prices simply because its a vette owner buying them?

#2 I've seen it as pretty much an industry standard that going from below 3.73 to a higher numerical gear requires a carrier change. Is that the case with my 96 LT4's Dana 44 rear end?

Because, if I can get 4.10s or higher in my rear end, and only have to pay $150bucks plus some labor....sign me up. If its gonna cost me $500 plus labor......the nitrous is gonna go on first.