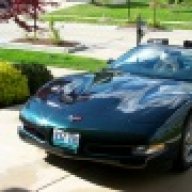 Joined

May 3, 2004
Messages

175
Location
Corvette

2000 Dark Bowling Green Metalic Convertable
I recently had an experience with my run flat tires that I thought I would share. I was on the beltway in St. Louis doing 60mph when I hit something in the road and my left front tire immediately went flat. The information center reported first low pressure, then said it was flat, then reminded me that max speed was 55. I was amazed that there was no change in handling characteristics. I took a back road home and averaged around 40mph while driving 20 miles to the tire place near my home. There was a half inch hole through the tread of the tire so I had to purchase a new one.

Run flats work and deliver a safe and convenient method of getting to a repair site. I cannot immagine what it would have been like with a normal tire, rapid deflating at 60mph. Then, with no jack or spare waiting for a tow truck.

I had flirted with the idea of going non-runflat for the quieter ride but now will hapily ride the safe way.