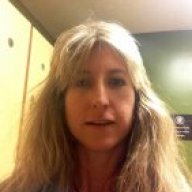 Joined

Jun 12, 2002
Messages

894
Location
Corvette

1990 Convertible
Ok, here is an interesting one for all you vette experts. We put new doors on our 84 vette because we got a smokin deal on a pair with good window motors, door panels and the like. Since I am the wiring "expert" (term used loosely) I did the intricate, delicate, surgury of splicing all the %$$*&! wires together. Since then, the door locks were the only thing that didn't work and I have been hesitant to tear back into it.

Well today, I was sitting in the car, trying to figure out why our radio stopped working and for the heck of it I hit the lock switches and they worked! At least for about four times. Also, when I hit the lock switch, the security light that normally always blinks on the console stayed on and when I hit the unlock it started blinking (like it is supposed to). Great but then all of a sudden the door switches stopped working and now I hear this click behind where the middle console area is; where the security light blinks. Is there a relay back there? Why would they work mysteriously for a few tries then quit? Apparently I did wire them up right and there is another problem. Any suggestions?

Also, another weird thing that happens. If I put the fuse in for the interior lights, the back hatch switch on the door panels WON'T work. If I remove the fuse they work. Weird - any suggestions on that one?