Joined

Jan 23, 2002
Messages

38
Location
Corvette

1980 4 speed, white w/maroon racing stripe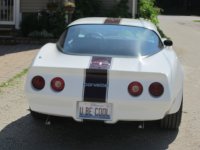 View attachment Price Guide Report.pdf
1980 Corvette ( to see more pics go to
1980 Corvette Photos by chogstout | Photobucket
I've owned this car for just about 12 years now. It's always been garage kept. In this 12 years I've put less than 5000 miles on it, and the odometer shows almost 52,000 mi. on it now. I assume the odometer was reset to zero when the engine was overhauled and speedometer was replaced, but I'm not sure. Since buying the car, I've done many things to improve it, but haven't had a lot of time to drive it, which is why I'm selling. I've put an average of only about 500 miles per summer on it.
This car has the 4 speed, manual transmission that only 5700 cars of a total of almost 41.000 corvettes produced in 1980 came with. It also has the heavy duty Gymkhana suspension and shock absorbers. It has the L48 350 cu.in. engine, with 4 barrel carburetor. And, it has air conditioning, tilt and telescopic steering control, t-tops with leather pouches for storing, am-fm stereo radio, and a shop manual. I also have a few extra parts, etc., I'll tell you about.
The whole car was originally in the claret red color, but the exterior was re-painted white with claret racing stripes running down the middle, shortly before I bought it. The interior is the original claret cloth and leather, and still in good condition. The engine was completely rebuilt, shortly before I bought it, and I had the transmission rebuilt shortly after buying.
I've repaired or replaced these items since owning the car, and done many other things which are too much to list here. I have receipts for these repairs/replacements. This list starts with the most recent and goes backward, but even the oldest have no more than 5,000 mi. on them …
1. Brand new BF Goodrich radial T/A tires
2. Power steering pump, control valve, and power cylinder
3. All 4 disk brakes, calipers and master cylinder
4. New starter motor and wiring harness to it
5. New battery and power disconnect switch
6. Replace both mufflers and LH cat converter on dual exhaust system
7. Replace heater hoses and thermostat and fan belts
8. Rebuilt carburetor
9. Installed new power antenna
10. Rebuilt 4 speed transmission and clutch
The car is 34 yrs. old, and has some minor flaws. The clock doesn't work, but I have a new one. Rear defroster doesn't work. Air conditioning needs recharging. And a few other minor things I'll tell you about.
So, all in all, we have a sharp lookin' corvette, that looks good, inside and out; runs good and is dependable; and will take you anywhere you want to go, … while turning heads the whole way!
I think $13,500 is a fair price … but, I will consider serious reasonable offers. Qualified buyers may be eligible for
Financing
, Shipping, and
Extended Warranties!
call: 855-600-7750 refer to Stock Number: C94382L
Last edited: