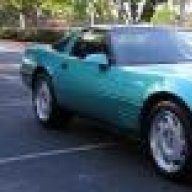 Joined

May 18, 2003
Messages

312
Location
Corvette

1991 Turquoise Metallic Coupe
The Service Engine Soon warning light has begun to go on in my 1991 L98.

According to the owner's manual, I should take the car to get serviced immediately. However, it doesn't explain why it goes on or what it normally goes on for.

At first, the light went on for a few seconds while driving. Later, it started to come everytime I drive the car. Yesterday, it went on and stayed on for while then went off. Then it did it again. All this while I was out driving the car long distance.

On all instances, the car NEVER ran funny or abnormal anytime the warning light went on.

Does anybody know what this light normally refers to? I mean, Service WHAT soon? What part of the engine? I'm afraid to take it to the dealership and have the mechanic scratching his head thinking the same thing I am: "Service what?"

The car has 43,000 miles, an L98, automatic.

Any help would be greately appreciated.