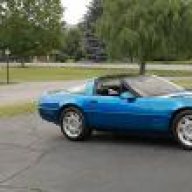 Joined

Dec 26, 2002
Messages

105
Location
Corvette

1991 Blue Coupe
My son and I worked on putting my car back together from 8:00 AM in the morning until 11:15 PM on Saturday. I could not raise my arms above my head on Sunday!! We were under the car for 4 hours at least. As an amateur shade tree mechanic (never removed an engine before in my life) I was pretty happy, when we were ready to crank her up at 11:15 PM, she started on the first turn of the ignition switch (after some priming with coil wire removed). After running for awhile and letting her heat-up, we found just one leak, I forgot to tighten the suction nipple for the heater hose on the water pump.
There were some challenges and things we learned as we worked on Saturday. Several time we had to take something off to get something else on. We had to pull one of the headers off 3 times, that became the running joke of the day. The biggest challenge was hooking up the exhaust pipe to the new headers. We got the pipe lined up to the first header and got the 3 bolts, washers & nut in to get it attached loosely. We went over to the other side and the exhaust pipe alignment was off by a foot !! Yes a foot !! So we disconnected and pulled the pipe off and brought it out to my picnic table to see what we could do. This was pretty heavy duty stainless steel, we were not going to bend it by sitting on it !! So my son happened to have a couple of straps with a built in ratchet buckle in the truck he had borrowed. We connected two of them and began to compress the two pipes that make up the "Y" connection. We were able to move them 12 inches, kept the straps attached and hooked both up to the headers.
I did get to cruise the neighborhood Sunday without my hood on, still needs to clean, sanded, & paint the hood. But I am close to seeing the end of this tunnel. Next year, full brake overhaul, following year it is the interior carpet and seats, and year 3 the new paint job !! I am sure more projects will come up in between !!