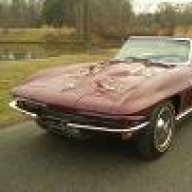 Joined

Jul 7, 2005
Messages

82
Location
Corvette

1966 milano maroon 427/390
Hello All,
My apologies if this gets a bit lengthy, but I hope you understand. Over the next few months I may be seeking your counsel and consolation for reasons evident from the photos below. My '66 original numbers BB vert had been undergoing a body-on for several months and throughout the process, my mechanic and I have worked side-by-side. He'd do the stuff I couldn't and I'd sweat the detail work. We had the engine and tranny rebuilt and gutted and refinished the engine bay. The suspension had been dropped for rebuild, the seats and console removed and I was refinishing much of the trim. I just finished redoing the frame and we were ready to start putting everything back together.
Sunday morning, my wife took a call from my mechanic's brother-in-law to tell us that there had been an electrical fire at the shop (my mechanic was too despondent to talk). He warned us that the photos are grim, but that most of the heat was concentrated in the loft above the shop. Miraculously, the car didn't seem to be totally demolished – blistered paint, cracked windshield, melted convertible top, heat damaged door panels and dash, and water damaged carpet. The instrument cluster is probably toast as well, but the body remained intact. At the time of the fire, there was also a '65 hardtop vert and a '69 XKE in the shop. Although the '65 suffered significant damage, both were on wheels and were rolled to safety. I was stuck on a lift.
In a conversation with the building owner that evening, I was advised that the building had been condemned, which got me to worrying about how I'd be able to retrieve everything. I took a long walk Sunday night to sort out my thoughts and put things in perspective. Conclusion: It's only fiberglass and metal. No one was hurt. Forge ahead.
On Monday, I spoke with the local police and the borough engineer, ready to plead for permission to remove the car before the building is razed, but both were sympathetic and put my fears to rest. They indicated that we could have access to the corner of the building where my rebuilt motor (wrapped in plastic), trans, as well as all the new and refurbished parts were being stored. Fortunately, they were all relatively unscathed and we got them out yesterday. Once they shore up what's left of the roof above my car, we can get the body and frame out of there.
I'm hoping that Hagerty lives up to their great reputation. My contacts so far have been positive. The adjuster should be out to do an assessment in a couple of days. The insurance companies can duke it out from there.
In the meantime, can anyone with some experience with heat damage give me some clues as to what kind of damage I should be looking for, and what problems I might run into when we repaint? I'm also looking for some suggestions on how we can dolly the car out of the shop. There's very little clearance on either side of the car, but we have access to a forklift. I was figuring we'd use some 4x4's with the forklift to lift and guide the front end while a bunch of us lift the tail end and walk it out with the forklift to where we have some elbow room. Once we do that, any suggestions for a dolly?
In the meantime, I keep telling myself it's only a flesh wound…
Much thanks for any input.
Jeff