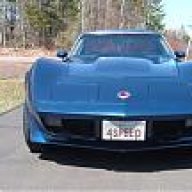 Joined

Sep 13, 2005
Messages

307
Location
Corvette

1974 Metalic Blue L-48 Coupe 4 speed
Hi,
I recently had a front signal light burned. Caused my signal light to not flash on the passenger side. The Driver side works with no problem. I went today to buy a signal light bulb to replace the defective one.
Now all the lights comes on when I turn the signal lights on the right. but they won't flash. I've turned the Hazard light on. everything on both sides flashes.
So why in the hell the hazards light works all around the car and the signal light on the passenger side won't flash. It says ON Solid.
Can it be the flasher? is so, why is it working on the driver side? if it's a burned bulb that causes the problem ok but they are all working now.
What can be the problem now? Oh and by the way. I've replaced the burned bulb with the exact same number on the bulb. The old number on the blub was
1157 12v32/3cp the only difference now is that I have number 1157 12V and is not 3cp. it's 2 something.
please help