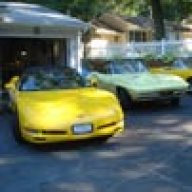 Joined

May 24, 2001
Messages

3,908
Location
Corvette

1966,and a 1962 thats almost complete
Well this is the year I am going to extend my garage.


I thought we discussed this prior but I could not find this is the archives,

So call me cheap but I love the idea of free lighting.I dont have concerns of security, I am not worried about the heat gain as I will be adding an a/c system.

Can anyone one think of why I wouldn't want to have the skylights, do I have to worry about the sun getting in and fading the paint?