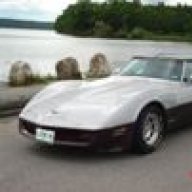 Joined

Jun 28, 2005
Messages

581
Location
Corvette

1982 silver/claret
All this time I had been thinking that I would paint the car two tone, just different colors than I have now.
Now after looking at pictures I kinda like the solid colors better. I saw a vette painted in just Claret and it looked really nice.
Nothing under the hood is going to be very original looking except the CFI and even that looks different so its not like I am going to be a numbers matching car and its only paint and if someone wanted to repaint it they could.
I mean look how nice this car looks:
http://cgi.ebay.com/ebaymotors/Chev...002QQitemZ120106004811QQrdZ1QQsspagenameZWDVW
notice the cheesy rims and tires though.
Anyway, what do you think?