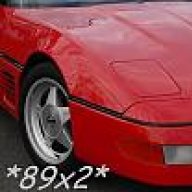 Joined

Feb 18, 2002
Messages

10,357
Location
While on vacation this past week with my family, we were spending some quality time together when on the TV, came this: :W
Cars at Carlisle

SCHEDULE -

All Times Eastern & Subject To Change

ShowDatePart 1

Wed, Aug 1 3:00AMPart 2

Wed, Aug 1 4:00AM

Return to Programming

Year after year, more than a half-million people flock to the small town of Carlisle in central Pennsylvania for a unique series of collector car events. This hour-long program serves as an introduction to the amazing line-up of events held at Carlisle in 2006 and every year. Produced by JPL Productions.
Featuring dozens of Corvettes, many Callaway Corvettes can be seen throughout the 1 hr program (part II) of the Cars at Carlisle SPEED TV show :cool
In addition to the cars seen on the tape, interviews and a cameo appearance are made during the program
Check it out!


p.s. you may have to set your Tivo for this one, unless you are a night owl