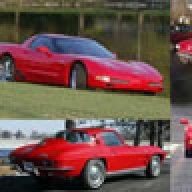 Joined

Oct 11, 2003
Messages

1,895
Location
Corvette

15 Z06, 01 Vert, 63 SWC & 60 ALL RED
We are getting real close.....I stopped by today and checked out where they are at....holy cow!!! The engine bay is now done. It has 40 hours of paint, wet sand and buff in it and does it look really GREAT! Looks like someone poured liquid red glossy plastic over the engine bay, it looks really good! Here are some photos....
They also painted and buffed out the center console and the seat divider. Again, it looked fantastic! Notice the reflection of the overhead lights on the center console. I took out the clock and the heater controls. Perhaps someday I will put them back in but right now they are out and 3 gages will go in there as well as the top rectangular opening is for the Dakota Digital switch that will control the hood opening and closing.
This is Dave, body/painter extraordinaire! he has done a very nice job and given how the engine compartment came out the body is going to be really special!!
Harry made a mold for the battery box that fits in right next to the spare tire opening in the trunk. It looks like it was always meant to be there! He used the mold to also make one of the battery boxes for holding the battery in his Willy's that he is putting together.
Harry walked me around the car and before they paint it they are going to go over it one last time looking for any little nicks or pits and clean them all up. he wasn't satisfied with the roundness of the rear wheel openings so he redid them!
I am taking the frame to a local shop that will adjust the caster, camber and align the front end so that when the body is dropped on it it will be just fine. I realize that the car should be "at ride height" but it isn't going to change or not change much. I should be in really good shape! This gets dropped off tomorrow and then on Saturday I pick it up and on Monday it goes back to ACC to be mated for the last time to the body. I expect to have the car back home in 7 to 14 days from Monday!!!! Stay TUNED!!!!
regards, Herb