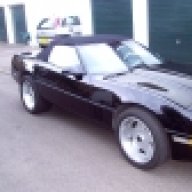 Joined

Oct 10, 2002
Messages

112
Location
Corvette

1986 Black C4 Convertable
Ok,
My car passed its mot today here in england after not moving for a couple of years. These realy are amazing cars!!!
Was driving it back to my house with a smile on my face, roof down enjoying the rare british sun when i lost all accellaration. limped to a safe place and stopped. engine splutterd to a stop.
It turns over, there are sparks to the plugs. no noise from the fuel pump though. is a 1986 c4.
Have read some of the threads and would like clarification of a few point. which fuses should i be checking as the fuse box doesnt read very well.
How do I replace the fuel pump and what does it involve.
Before i start pulling the car apart is there anything else i should check.
Also read a thread that suggested that there may be a fuse for the pump in the dash behing that panel that tells you when you are going to need to spend some more money??????? does this apply to my 1986????
I have removed the center panel and the info screen and the panel on the left with all the display option switches are joined together as one unit which doesnt sound like the description on the thread i looked at. dont realy want to un bolt it unless reassured that there are fuses behind it. you know how delicate these old cars are.
Thanks in advance guys.
British Bob:W :W

;help ;help