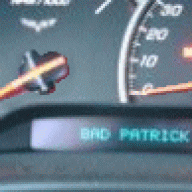 Joined

Jan 19, 2003
Messages

3,021
Location
Corvette

2006 'Evil Stealth Black' Roadster
This thread is not so much a debate about radar/laser detector devices, as it is a discussion about one of the facets of owning a Corvette I've come to notice- the assumptions of others about your Corvette, and how you drive it.
Let me start by revealing my bias: I don't own a radar detector. I know people who swear by them, but I've always harbored this feeling that radar detectors give you a false sense of security. But, again, I say this not to start a debate about radar detectors, but so that you'll know why I don't own one as I relate this little experience.
Friday afternoon, I took a coworker of mine to pick up his car. He has a Subaru WRX STI sedan (the kind with the big rear spoiler on the back) that he's awfully proud of, even though he's afraid to race my Z06. It seems his car was recently broken into at his apartment complex. He filed the police report, reported it to his insurance, and got his window fixed, but this caused him to realize he needs more security for his car. Although he's put himself on a waiting list to get a garage space at his apartment complex, it may be some time before a garage opens up. So he did the next best thing and got a car alarm installed.
So, Friday afternoon, we left work a little early to run over to Car Toys to pick up his car. The plan was afterward, we'd head over to the Sports Pub and grab a bite to eat. While we're waiting for them to finish the install and bring the car around, we look around the store at all the stereo systems, the GPS systems, the in-car theater systems, etc. The salesman comes up to my coworker and tells him his car will be ready in just a few minutes. He then notices I'm wearing a Corvette logo shirt.
"Do you own a Corvette?" the salesman asks me. Since it's viewable outside the glass doors, I point to it. "Niiiiiiiiice ride," he says.
I thank him politely. It's always nice to have to have the Corvette noticed. But the look on this kid's face (and he was a kid- couldn't have been more than 22 or 23 at the most) was like the look of a wolf coming across a meadow filled with sheep. Maybe I should have just gone onto to the Sports Pub.
"You should let us put an SR7 in that for you," he says.
"What's an SR7?" I ask
"It's an in-dash installed radar and laser detector. It also comes with an active radar jamming feature that's installed behind the front grill. I've got one, and it's saved my butt a few times."
Setting aside my reluctance to invest in a radar detector (I wasn't going to get caught in that argument), I simply said, "I thought active radar jamming systems were illegal in Colorado."
He grins, "It's illegal to use one, not to own one." Yeah, quite the distinction there. He hands me his card, as the tech who's brought my coworker's car around hands him the keys.
On the way out, to satisfy my curiosity, I pause at the wall display showing all the radar detectors, and my suspicions get confirmed:
the Escort SR7 is $1,500 dollars, plus installation.

No, I didn't buy one.
$1,500 for a radar detector with a feature that's illegal to use in several states. Apparently, the assumption this salesman had came down to two things: First, if you own a Corvette, speeding around roads above the posted limit is as natural a thing as breathing. Second, if you own a Corvette, you'll sink money into it for any reason, especially reasons that allow you to more freely do something that comes as naturally to a Corvette owner as breathing.
Is this how all non-Corvette owners view us? Or is it just twenty-something kids, who might be motivated by a commission sale? Are we viewed as a targets for spending ridiculous amounts of money because of the car we own? Are we really viewed as viewed as people who speed constantly because we have a car with a top rated speed in excess of 170 MPH?
I thought this would be an interesting discussion- share your experiences and observations of how non-Corvette folks you come across view you.
-Patrick