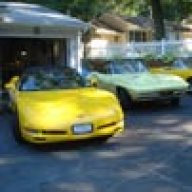 Joined

May 24, 2001
Messages

3,908
Location
Corvette

1966,and a 1962 thats almost complete
I may have shaired this with you guys.

Well Corvettes of Carlilse 2003 or 2002 I came across a C1 that all ready had a SR111 tubeular chassis under it, the car a mis match of differant parts and years of car but it had the frame and it was a roller with motor and trans.
Needing complete restoration and assembly every thing was kinda layed in place
I spoke to the owner shortley on the car got a feel for his price and came up with a purchase price I was willing to pay.

Tried to call my brother at his home on my cell to find out if he would run my car trailer down to take it home. Where the guy was I had no phone service,I had to walk up hill a bit and a couple of isle over finally get service, finally talk to my brother he said he can drive it down, call my shop and tell them to get my truck hooked up to the car trailer, talk to our house sitter tell her how to get me some money to give to my brother to send down to me. This all took me about 32 minutes. I walk back down to the seller to negoceate my deal and give him a deposit, only to find the car with a sold sign on the car.

I spoke to the seller and asked what happened he said guy walked by and purchased it on the spot just like that,( I said I wanted it but left no deposit because I wanted to make sure I could get it home with out having to go home my self to get the trailer) As my daughter would say MY BAD

anyways the next days breakfast I was talking with this fellow at our hotel explaining my miss at a car only to find out his freind bought it

I forgot about this whole deal till I get home today and find the newest issue of Vette magazine at the door ( Resto rod vettes issue) with a spead on the car with this guy Mike Colleto as the builder. They car was a disaster but they got it all together and it looks great. I showed the magazine to my wife and she said boy does she ever remember that day and how disapointed I was not getting the car.

Well as you guys know I finally did get my car in 2004 but it took a couple of years to find one.

Just wanted to share my story and suggest anyone building a C1 resto rod this may be an interesting issue for you as they also have a spread on the morrison frame.