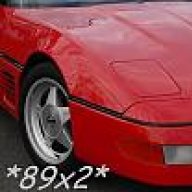 Joined

Feb 18, 2002
Messages

10,357
Location
This is the model that caught GM's attention - the results were the creation of RPO B2K Callaway Corvettes

http://cgi.ebay.com/ebaymotors/ws/eBayISAPI.dll?ViewItem&category=5356&item=2482752927&rd=1


[font=Verdana, Arial, Helvetica, sans-serif]
Vehicle Description
[/font]
1985 Callaway Alfa Romeo GTV/6 Twin Turbo One of a Callaway production run of 35 GTV/6s as a special model for Alfa Romeo in 1985 and 1986 - the rarest Alfa of modern times to be sold in the United States. In its August, 1985, review of the car, Road & Track described the Callaway GTV/6 as a "supercar worthy of the Nuvolari and Fangio tradition" and "the first Alfa in a long time ... with the power to take on almost any rival." The 1985 and 1986 Alfa Romeo GTV/6 were the last two years of U.S. production of the coupe designed by the famed Giorgetto Giugiaro, a 2 plus 2 coupe with a gorgeous 2.5-liter V6 engine, a 5-speed transmission with rear transaxle, and four wheel disc brakes. The twin-turbocharged Callaway version of the GTV/6 increases stock horsepower from 154 hp to 230 hp and torque from 155 foot pounds to 245 at 2,500 rpm, in a car weighing 2,890 lbs. Other modifications are confined to the hood scoop for the intercooler and special Callaway lettering on the rear windows. A rear wing was available as an option. This car carries VIN ZARAA6690F1007128 and is red with black leather seating and steering wheel, "tropical" a/c, period Sony radio and speakers; and the rare rear wing. Purchased in 1987 from original owner in Georgia with approximately 66,000 miles; now has 69,304 miles. Engine entirely rebuilt by former Callaway engineer who originally built the cars to specifications better than new, including stronger components that addressed inherent weaknesses of original. The description of the rebuild runs for pages, but includes new pistons, valves and bearings, oil pump, timing belt and improved tensioner, turbocharger, stainless exhaust manifold, turbine discharge pipes, high temp turbo hoses and shielding, cam shaft regrind, replacement cylinder head, rebuilt alternator and starter, Aeroquip oil lines, etc. Job began in 1989, but delays in the work caused the car to be out of service for about five years. Engine also was detailed, with powder coated cam shaft covers, etc. The car has been kept as built by Alfa and Callaway, with the exception of improvements for drivability or durability that include an oil temperature gauge tapped into block for more reliable readings; aluminum high capacity radiator and electric cooling fans; transaxle from 3.0-liter Milano for its better gearing; "short shift" kit; Borla stainless exhaust tubing. A host of other parts have been replaced, including brake rotors and shocks. Air conditioning was renovated and is working perfectly. New Ronal 16 inch wheels installed in 2002 with new Kumho Ecsta 205/50ZR16 tires. The car comes with a variety of parts, many of them no longer available, including a spare turbo, Callaway Microfueler, throttle body, and "show quality" chrome turbo inlet pipes. (Parts not for sale separate from the car.) The interior of the car is flawless, with no cracks in the dash and leather seating virtually as new. The carpets are excellent, but there is some discoloration of the headliner and the front window felt shows typical Alfa wrinkling. The body and paint also are excellent for a car of this vintage, with a very few paint chips on the leading edge of the hood and absolutely no dents or damage. The hood evidently was repainted during the car's first ownership, and a small area on the driver's side of the roof was repainted as a consequence of damage during delivery to me. One bodyman has told me he believes portions of the sides were repainted, but not during my 15 years of ownership. Typical of red cars, the roof paint will turn chalky but a hand-buffing resolves that issue. There is no rust on the car at all, and the undercarriage is immaculate. During my ownership, the Alfa always has been stored in a garage with a dehumidifier, and meticulously maintained with regular service (Mobil 1 oil, distilled radiator water) despite its minimal road use. Exceptionally rare, this example of the Callaway GTV-6 is faster than when new, very eye-appealing, and in extraordinary condition - to the best of my knowledge, there are only two others in the US in comparable or superior condition. Exhibited at 2001 Greenwich Concours d'Elegance. Other than the extra parts, the car comes with the original Alfa and Callaway window stickers, all service records from new, manuals, and assorted documentation including magazine articles. Having loved, enjoyed, and very carefully cared for my car all these years, I am happy to answer any questions, as best as I am able. Interested parties who are close to Connecticut may inspect the car if they wish. Internet links with information:
http://www.alfaowner.com/alfaowner/archives/callaway.htm
interview with Reeves Callaway at
http://www.alfacentro.com/
Unfortunately, stories on the car published in Road & Track in 1985 and in Autoweek in 1993 are not archived online by those publications.