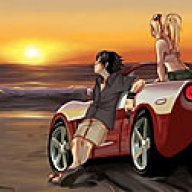 Site Administrator
Staff member
Administrator
Joined

Sep 16, 2000
Messages

13,790
Location
Corvette

1990 Corvette ZR-1
Thieves Steal Milwaukie man's $100k 1954 Corvette Roadster
by Katherine Cook
kgw.com
Posted on May 8, 2010 at 9:01 AM
Updated today at 9:03 AM
MILWAUKIE -- Clackamas County Sheriff's officials said someone stole a rare and valuable 1954 Corvette roadster from a Milwaukie man's garage.
The car's owner, Emory Molchan, said he discovered the roadster missing on Tuesday.
"It's like losing a kid," said Molchan. "We don't have children so . . . it's my passion."
According to Molchan, there are only seven 1954 Corvette roadsters registered in Oregon, and he owns three of them.
Two of his Corvettes, including the stolen one, looked identical with white bodies, red leather interiors and white wall tires. Molchan said it took him about four years to restore the stolen car, which was worth about $100,000 dollars.
Full Story:
Thieves steal Milwaukie man's $100k 1954 Corvette | kgw.com | KGW Local News | Portland, Oregon