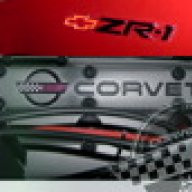 Joined

Apr 26, 2002
Messages

120
Location
Corvette

95ZR1#418, 88Z51Coupe, 69L46Coupe
Hello All-
I little proposition for those of you going to the "Gathering" in Bowling Green. Anyone who can find me a '94-'95 Brite Aqua ZR1 or Admiral Blue that results in its sale to me I will send a check for $100 as a finders fee, better than nothing. If it's Brite Aqua and exceptional I may be more generous.
This is pretty easy wouldn't you say? All the cars are right there for you. You need to get there name, phone no. or e-mail address. I don't want you to harass people but if they would be willing to hear an offer from me it could be what they're looking for.
Next, e-mail me with the information (as well as your name address etc.). I will keep track by e-mail according to who reaches me first and follow the lead or leads in order. I'd feel lucky to get one.
Please don't waste your time or mine, you have to get the O.K. from the owner, the info, and the car must be show or near show condition, I'm sure you get the idea.
P.S. The $70K D&M car as well as the '94 admiral (Kevin Lumsdens out of TX) are not in the running.
Bob Bloyer
(406) 777 1198
Missoula, Montana
SynapseZ51@Yahoo.com