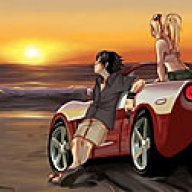 Site Administrator
Staff member
Administrator
Joined

Sep 16, 2000
Messages

13,790
Location
Corvette

1990 Corvette ZR-1
Twin-turbo, mid-engine Corvette Super Coupe headed to SEMA




Though the mid-engine Corvette has somehow eluded the folks at GM for all these years, there were at least two one-offs (the XP-882 and CERV-III), that embraced this logic. Now, blogs and message boards are brimming with the expectation of a mid-engine C7 Corvette. American Super Car (www.americansupercarinc.com) in Hudson, FL, has produced just such an animal, the brainchild of Phil Somers (builder of the red Motion Camaro and the yellow Motion Speedster, SEMA '05 and '06, respectively).

"The idea was to do a car that's never been done before, to go beyond the front-engine/rear-drive form that no one has had the guts to challenge," Somers said. "All the great European road machines adopt mid-engine placement for the ultimate front-to-rear weight bias, high-rate handling and braking, and top-end acceleration. The V7 has all that and is couched in a classic, very recognizable form." The V7twinturbo represents an Interpretation of a classic infused with the latest technology. "The super coupe crosses traditional boundaries and incorporates ideas and execution borne of Europe, desert racing, Pro Touring, as well as Main Street, USA."

To accomplish this, ASC has moved the passenger cab of the '63 Coupe forward to accommodate all the mechanicals within the original wheelbase. The V7twinturbo is founded on an extremely rigid ladder-type tube chassis and a rugged independent rear suspension that accepts a 1,000 horsepower twin turbo Chevrolet LS engine and a paddle-shifted Mendeola transaxle. The rear section of the body is hinged and tilts back to allow complete access to the powertrain.

The V7twinturbo will debut at '07 SEMA in Las Vegas and the PRI Show in Orlando, FL. American Super Car, Inc. is not affiliated with any other company.