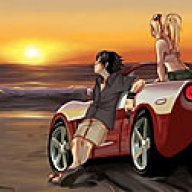 Site Administrator
Staff member
Administrator
Joined

Sep 16, 2000
Messages

13,863
Location
Corvette

1990 Corvette ZR-1
Posted 12/15/2005 9:45 PM Updated 12/16/2005 12:12 AM
Corvette Z06 makes you wanna gas it
​
by James R. Healey, USA Today
Sports Illustrated
magazine has a fine tradition — a swimsuit issue in February to snatch readers out of the cold-weather doldrums. Thus given license, we'll examine a machine best in fair weather just as the weather's gone foul many places to remind us that dry roads aren't gone forever from the Snowbelt.
The 2006 Corvette Z06 has an aluminum frame and lightweight carbon fiber fenders.
In the spotlight: Chevrolet's 2006 Z06 Corvette sports car. It is a breathtaking reminder that driving is, and ought to be, glorious fun.
The Z06 is a higher-performance version of the already high-performance Corvette. And what's great about it is the same thing that's great about the Corvette generally. You get stunning acceleration, handling, braking, steering and style in a car you can comfortably drive every day for a price the exotic foreign guys can't touch.
Heck, even the exotic Detroit guys can't beat it, dollar-for-dollar.
"We wanted to do a car that could compete with a lot of the supercars out there at $200,000 or $400,000, but one you could actually afford," says Harlan Charles, Corvette product manager.
To get the rigid framework and light body needed for supercar performance, the Corvette engineers nearly redesigned the car. Z06 uses an aluminum frame instead of the heavier, mostly steel frame under other Corvettes. Z06 has lightweight carbon fiber fenders instead of not-quite-as-light fiberglass fenders.
The Z06 is simple and easygoing.
The Z06 test car was driven mainly around town and was a joy even without full-bore, open-road romps. Here's what makes life a ball in a Z06, which starts at about $66,000:
•
Drivetrain.
The engine is a 7-liter V-8, rated 505 horsepower and 475 pounds-feet of torque. Chevy says it will top out at 198 mph and will blast from standstill to 60 mph in a breathtaking 3.7 seconds, without leaving first gear. Ford has a car that will do that, too; in fact, tops out at 205 mph. But it's the $151,000 GT, and so few are built you probably couldn't get one. Dodge Viper's 500-hp V-10 will post some impressive numbers, but it starts at $84,000.
The test car had a six-speed, manual transmission that was firm and mechanical; short throws; positive, no-sweat engagement. Not a snick-snick, sports-car shifter, it's more in keeping with the muscular nature of the Vette. The clutch engaged easily, making Z06 remarkably well-behaved in slog-and-chug traffic.
•
Styling.
Z06's changes are enough to take the almost-there regular Corvette's design all the way there. The muscled hunker, the low snout and high tail, the big wheels and businesslike back end bristling with exhaust pipes — excruciatingly exciting.
•
Handling.
It's a general category that includes everything from parking-lot agility to stability during high-speed emergency maneuvers. However you define it, Z06 seems to have it covered. You feel confident the car will do what you ask. The tradeoff is a stiff ride over potholes and bumps, but it's not that stiff by sports-car standards and is smooth enough on better pavement.
Z06's electronic stability system is a gem. You can turn it completely off. Or you can switch off just the traction-control portion, a useful choice in mud, on some snowy surfaces, and anywhere else you need to spin the wheels to keep going. Or you can switch to competition mode. That allows some wheel-spin and some sliding in corners.
Charles says most drivers get their best track times using that mode, even though it's tempting to shut the whole system off on a racetrack. A G-force meter measures just how much sideways acceleration you were able to generate in the corners, Hot Shot, and holds the reading so you don't have to look down during the corner to see how you're doing.
Lots of fun cars turn sour if you have to rely on them. But the Z06 seems to avoid that because it has:
•
Simple, easygoing manners.
About the only oddities are pushbutton door latches on the inside, instead of yank-handles, and the proximity key that lets you start the car with a pushbutton on the dashboard as long as you have the key fob in your pocket or purse or otherwise nearby. It's only a little stretch to say the Z06 is about as agreeable as a midsize Japanese family sedan: Get in and go. No fuss, no muss. You don't get that sort of accommodation in most cars that will perform as well as the Z06. They tend to be high-strung, perhaps jerky in traffic, or hard to enter and exit.
•
Real space.
The cargo area is a generous 22 cubic feet, albeit pretty flat and unable to accommodate thick or tall cargo. Contrast that with the Ford GT's 1 cubic foot. Or Viper's 6.2. Or the $132,000 Mercedes-Benz SL600's 10.2. Cup holders and stash space on the console, and a useful large glove box, make it clear that Corvette's designers understand the beauty of a car you can and will use.
•
Comfort.
The bucket seats are the kind that make you forget you're in them. They just fit right. Interior panels leave enough space around your legs and thighs that you don't feel jammed in. Yes, the Z06 — any Corvette — is low-slung, but the seat is high enough that you don't have to fall in or seek help getting out.
•
Fuel economy.
In a high-performance car? Yes, relatively speaking. Z06 is rated a commendable 16 miles per gallon in town, 26 on the highway. The trip computer in the test car showed 15.1 mpg around town, driven with the modest amount of restraint possible in such a machine (that is, no full-throttle acceleration runs past the police station; no attempts to verify the 198-mph top speed).
Any gripes? Yes: noise. Not squeaks or chirps or rattles, thank goodness. But the rumbles and groans and sighs common to any car, but usually masked by insulation and an encapsulated passenger compartment, are amplified through the Z06's cargo area. It's a big, open space right behind the driver's head.
If you've any automotive pulse at all, a moment behind the wheel of a Z06 will bewitch you. If the car were a lover instead of a machine, it's one that would make you abandon your family, leave your job, forfeit your hard-won position in the community for just one more fling.
2006 Chevrolet Corvette Z06
•
What is it?
An even-higher-performance version of the high-performance, two-seat, rear-drive, plastic-body Corvette sports car. Manufactured at Bowling Green, Ky.
•
How soon?
On sale since late September.
•
How much?
Starts at $65,800, including $800 destination charge. Expect to pay as much as $10,000 more than window-sticker price, the online shopping services say.
•
Who'll buy?
Similar to other Corvette buyers, Z06 buyers typically are 35- to 55-year-old married men with median annual household incomes of $135,000, Chevrolet says.
•
How many?
About 5,000 per year, plus or minus, depending on demand.
•
What's the drivetrain?
7-liter, pushrod-style V-8 rated 505 horsepower at 6,300 rpm, 470 pounds-feet of torque at 4,800 rpm; six-speed manual transmission; limited-slip differential; traction control.
•
What's the safety gear?
Standard: Front-impact air bags, anti-lock brakes, stability control. Optional: side bags.
•
What's the rest?
Leather upholstery; dual-zone climate control; AM/FM/CD/MP3 audio; high-intensity discharge (HID) headlights; power steering, brakes, windows, locks, mirrors, driver's seat; auto-on headlights; auto-dimming mirrors; fog lights; run-flat tires.
•
How big?
175.6 inches long, 75.9 inches wide, 49 inches tall on a 105.7-inch wheelbase. Weighs 3,130 pounds. Cargo space is listed at 22 cubic feet.
•
How thirsty?
Rated 16 miles per gallon in town, 26 on the highway. Test car's trip computer showed 15.1 mpg mostly around town.
Premium fuel (91 octane or higher) is required to avoid potentially damaging engine knock, Chevy says. Lower grades can be used temporarily if you avoid demanding driving, according to Chevy.
•
Overall:
Celebration on wheels.