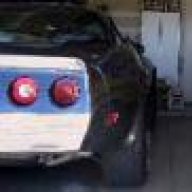 Joined

Apr 29, 2001
Messages

2,141
Location
Corvette

1981 HD Suspension; ZN1 Option
I have been testing the EGR valve, and I noticed that with the engine warm and a 15 Hg In at the EGR valve, I could feel a slight movement (or vibration) on the valve diaphragm, but it did not rise noticeably. The test calls for a minimum of 5 Hg In rise in vacuum at the valve, but the valve did not unseat even with 15 Hg In Gage at the valve.
Using a vacuum pump, I had to apply approximately 20 Hg In of vacuum, and it lost 5 Hg In of vacuum in about 33 seconds.
I am suspecting that it should not take a very strong signal to unseat the valve, and so perhaps my EGR valve is bad.
Does this make sense?

;help