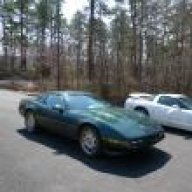 Joined

Feb 17, 2005
Messages

144
Location
Corvette

1994 convert. 2002 C5 coupe
Help Guys.
I need info and help on locating and replacing all my vacuum lines leaving the 4 vacuum fittings from the plenum of my L98 1990.
The lines control the 1- Fuel pressure regulator 2-Cruise control, 3- Heat, ventilation. 4-EGR Valve. 5-Fuel vapor purge system.. 6- Mass Air Flow
My ride has over 125 K miles on it and just replaced all the fuel injectors and found that some of the rubber and plastic vac lines are cracked and broken, I don't want a patchwork repair. Help.
Thanks.
Tom.