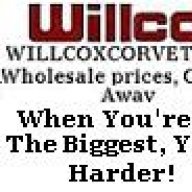 Joined

Apr 15, 2005
Messages

40
Location
We have changed around our web site so that only Corvette Action Center, Forum and CPRL thread members are eligible for extra discount on limited items. This section can be accessed either from the top of the site, or the left hand side and can be viewed by year or by searching with the top of the web site. All items are listed under FORUM SPECIAL!
http://willcoxcorvette.com/advanced...gory=1988&keywords=Keyword+or+Part+#&x=30&y=2
Orders place without this info will be referred to the Corvette Action Center for sign up before they are shipped. Once a current User name is submitted the order will process.
Each member must include a Valid Action Center Name with a purchase. Please remember to include this info with your order! We have to abide by the rules on this.
Jim, If you are reading this, I need you to send me a banner for the web site! Now you have to work for one. What is good for the goose is good for the Gander.
We will be adding an

Al Knoch Interior Section

to our site in the near future. This will give all Al Knoch loyal customers a chance to purchase this fine product as well.
A new announcement

board is listed on the web site that can be updated at a moments notice. Should your club, or show need an announcement, please feel free to submit this to our customer service email address below. This will be done on a first come first served basis and run for 7 days.
Please remember our new site is still growing and we are making changes to it daily. We still have over 20 thousand pictures left to put up on the site. If you find a product and you need to see a picture, please email us and we will get one up for you as soon as possible.
Should anyone have an issue, either with parts, service or the site, please feel free to contact us at
Willcoxcustomerservice@willcoxcorvette.com
.

I personally can not solve a problem if I'm not aware of it. If you have one, please take the time to submit it to me directly. There is no problem I can not solve!
Our new warehouse broke ground three weeks ago, we are looking forward to being able to add more items to our growing stock! Pictures the two story building will be posted on the site in the near future!
Suggestions are also welcome, and we invite all of you to "Come Grow With Us".
Best Regards,
E. Fry
President
Willcox Inc