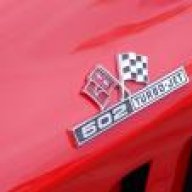 Joined

May 28, 2004
Messages

2,410
Location
Corvette

65 BB 502 Cp /MSD ATOMIC EFI/ 2009-HUMMER H2
To day was Fire up and tune the BG carb day.. John Lolli was nice enough to come over and give me a hand setting up the new BG Mech Secondary No Choke carb. The motor fired right away and I backed the Vette out of the Garage.
I had the Vacuum gauge hooked up and we warmed the motor and set the jets. That took about 3 minuets after the motor came to temp. Everything seemed correct so I shut the motor down and we started to work on fitting the air cleaner. I went to screw in the 1/4 20 threaded rod into the carb only to find out that the BG uses a 5/16'' thread. Ok... off to the hardware store and pick up a 5/16'' temporary 3'' long bolt.
After we fitted the air cleaner..problem #2 showed up. Seems the BG's Secondary Accelerator pump's linkage bolt hit's the backfire arrester tube in the air cleaner base. Out comes the hammer, and after dollying out the tube we gain the clearence we needed.
Now... the long awaited test drive. As soon as I pulled out of my driveway I could tell that something was different. Different in a good way The Vette really pulled as it never has before. I could step down and feel where the secondary open start point was and could control the power..!!! Wow.. What a big difference.
It just feel's completly different from the holly. Even just driving normally...better responce and driveability... No Bog at Full throttel openings...The final test was a Full throttel stomp at a 10 mile an hour roll in first gear.
Holl S_ _ T..!!!!!!!Talk about smoking the tires.....!!! Talk about wheel hop...!!
John had a real big smile on his face as he held onto the grab bar..
My 65..never was able to do this...Not that I drive like that...
but it now feels like 567Lbs of Torque and 502 HP.. So..Conclusion...
It was the Holly Carb that was the problem......It is Day and Night..
Below is where the Holly Belongs