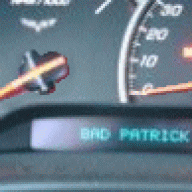 Joined

Jan 19, 2003
Messages

3,021
Location
Corvette

2006 'Evil Stealth Black' Roadster
Some of you CAC members who've been here for a while may remember about three years ago, I posted a little bit of prose called "The Joy of Z06." If you haven't seen it before, click the link and give it a read- It got some reasonably good reviews at the time.
Well, that was three years ago. This weekend, between a Z06 that looked amazing after spending six hours washing and polishing her, and a drive through some country roads that got me remembering what a performance sports car is meant for, my muse began speaking to me. The inspiration for the sequel to "Joy of Z06" came to me.
Have a read, fellow Z06 fans...
_______________________________________________________________________________
"Soul Reclamation"
Despite my best efforts, my ability to concentrate has failed me utterly. I've tried three times to read this email, and each time, by the second paragraph, I'm in a fog about what it was about. Mental fatigue has dulled my thinking. I look up and receive a shock- the clock on the wall shows the time: 7:52 PM. I've been here, working, for more than 12 hours now. That's long enough! They get my time, but they can't have my soul! I need to reclaim it.
In short order, the computer is shut down, the cell phone is stuffed in a pocket on the leather bag, and the bag itself gets slung over my shoulder. The office lights are dimmed, the security key card is taken from the lanyard I've been wearing around my neck, and it joins the cell phone in zipped pocket on my bag. I'm tired, and I'm leaving. Shame it's only Thursday.
The doors of the building yield at my shove, and I pause- the summery evening is sultry, the smells warm and sweet. Is that a distant barbecue? The sun has not yet set, but it will soon. To the east, a bluish-purple tinge is painting a violent contrast to the coppery orange glow on the western horizon. Staring at this, taking in the full sensory experience, it hits me: my freedom has been granted, my soul is ready to be reclaimed. I take a deep breath, and draw real comfort from it.
The heat of the day is abating. I notice this as I walk across the parking lot, and find the asphalt merely warm under my feet, rather than hot. The sigh of a breeze from the west touches me slightly, cooly, relaxingly. I may just reclaim my soul, yet.
And there she is: my Z06, exactly where I left her, as I left her, so many hours ago. "You know where to find me," I had imagined her telling me, when we got here this morning. In my pocket, a key fob, unused and ignored for more than half a day, was waiting. I touch it, and the fire appears in her eyes.
For just a moment, as I continue approaching her across a near empty parking lot, I take in her curves, her tantalizing depths, the sheer smoothness of her skin. Oh, yes: she has been quite patient today, content to wait for me, and understand what I need at the end of a very long day. I fancy I can even hear an amused "hello, stranger" in my head, a tinkle of laughter, and an intake of breath as if a secret is about to revealed. Of course, the realization hits me at the same time another western zephyr whispers through the leaves and grasses around me: I know where my soul is, where it has been waiting for me- she's been keeping it.
The realization causes the corners of my mouth to turn, ever so slightly, upward.
Depositing my bag into the cargo area, I open the door and settle myself in the driver's seat. The leather is warm and supple. I fasten my seatbelt, and only realize after I did it, that I had also pulled out the lap strap to activate the cinch. Why did I do that? And what is that coquettish laugher I'm hearing?
A key goes in the ignition. Lights fire up all over the dash. Numbers and lines float on the windshield ahead of me. And for the first time since the day started, I can feel my heartbeat again.
"I've got something you want," she says. "Would you like it back?"
My head lays against the headrest as I put the parking break down, and shift, by memory, into reverse. A gentle release on the clutch and downward pressure on the gas, and the Z06 retreats from between the two painted white lines in which its been sitting, and points itself forward. "Yes, please," I find myself saying.
"I thought you'd say that," I hear her whisper. "Put me in first, I'll give it back to you as we go."
I, of course, obey. And she locks the doors. Soul reclamation is a private thing.
First becomes second, and we turn right onto the street. Second becomes third, as we merge onto an arterial. Third becomes forth as an on-ramp beckons. Fourth becomes fifth, the numbers on the windshield reveal shocking numbers, numbers above the posted speed limit, and the corners of my mouth have become an outright smirk. Snakes, wild horses and Teutonic alpha-numeric constructs are drifting into the rear view mirror, taking their rightful place behind the Z06, and that tinkle of laughter becomes a bit louder, more insistent.
For a time, the music on the stereo, the street lights in the spreading shades of evening indigo, and the background song of the Borla Stingers work on me. G-forces push me politely back into the seat, while sharp curves try to slide me around, to and fro. But the cinched seat belt shrugs all this off, and holds me in place. I'm where I should be, where I needed to be, partially in control of her, and partially surrendering control to her. Smirk, was it? Not any more.
Some form of magic, of roadway alchemy is happening to me. The streets are unfolding in front of me, as if paying tribute, laying a carpet for a respected pilgrim to speed upon. My heartbeat has quickened, and like a wave, I feel hairs on the back of my neck rise with the journey. A rush of thrill, an intake of awe.
And then all too soon, I find myself in my garage, the parking break engaged, and the key out of the ignition and resting in my hand. "Thanks," I grin to her, unfastening my seat belt, "that worked."
"Shame it's only Thursday," she seems to say. "Same time tomorrow?"
And then I remember: I'm off this Friday. That's tomorrow. My weekend has already begun.
"No," I say, opening the door, "let's do something different tomorrow."