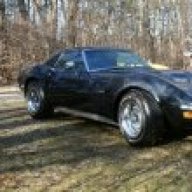 Joined

Nov 2, 2007
Messages

441
Location
Corvette

1972 LS5 Convertible PS, PB, A/C
Hello all!
Just became the owner of this 1972 all numbers matching origional LS5 convertible with A/C, PS, PB, M21 4-speed, and factory hard top. Found it stilling in a barn in Bull Valley IL. She had been sitting since 1996 collecting dust, mice, and lots of poo.
I've had her for two weeks and have been slowly bringing her back to life. Took a couple of weeks to catch and dispose of all the mice. . .as well as the mess that they have made. She will be getting a new interior. Anyway, after soaking the cylinders for two weeks in Marvel Mystery oil, she spins freely. She may have spun freely anyway. . .but I didn't want to risk trying to turn her over. Anyway, I'm getting closer to starting her for the first time.
Before I can do that, I need to rebuild the carb. After removing the air cleaner. . .I noticed that this carb is missing the choke vaccume pull off, the thermostat and the rod that conncets the secondary upper butterflies to the vaccume pulloff. I've also become concerned that the vaccume hoses that connect to the carb are not run or connected in the correct places. For instance, the PCV valve was connected to the back of the carb rather than the front of the carb like all earlier models. In fact the front vaccume fitting on this car is just wide open to the world. Not sure that is correct either.
Anyone with an NCRS or Bloomington Gold correct LS5 in 1972 be willing to take a photo of the top of the engine (without the air cleaner in place) that would allow me to see where everything gets connects to the car correctly?!?!? That would be a big help.
Please note that the assembly manual is not much of a help with this as it's not 100% correct either.
Also please note that this CARB is as I understand it the origional carb to the car. It's a carter quadrajet and it's number is 7042217
Here are some photos of how the carb looks on my car before I take it off. Please let me know what's wrong with these pictures. Thanks!!!