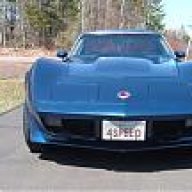 Joined

Sep 13, 2005
Messages

307
Location
Corvette

1974 Metalic Blue L-48 Coupe 4 speed
At last guy's, I've finally got the car tuned up on the Chassis Dyno.
Since I've bought the car I've added a few things to my Engine.
1. Changed Points system to electronic ignition system
2. Changed Timing Gears and Timing chain
3. Changed original Cam with Comp Cam XE-268
4. Changed lifters, pushrods, valve springs and seals.
5. Changed Intake for an Edelbrock performer EPS Endurashine
6. Changed Carburetor for an Edelbrock Performer 600 CFM
7. Changed jets and metering rods in Carb for performance and gas economy
8. Changed ignition coil for a Accel performance coil + Summit performance wires
9. Changed 2 Bolt main Block with 4 bolt main and was bored .30 over.
10. K&N Xtreme top and side filters
11. Changed clutch fan for a flex fan with spacer.
12. Headers on true dual 2.5 chambered Exhaust system.
All that brought me to 225 HP @ 4600RPM and 291 ft-lbs Torque @ 3200 RPM at Rear Wheels.
Now I want to know something. My Car came with 195 HP and 175 ft-lbs Torque stock at Flywheel.
How much did I gain? My car as a 4 speed manual transmission. How many % did I lost at the rear wheels? Can someone tell me the percentage lost between flywheel and rear wheels? I'd like to know How I'm making out at the Flywheel to see how much I gain from stock.
here's a picture of the engine bay Before and After all the work.