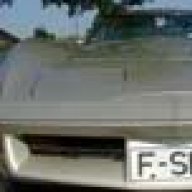 Joined

Jul 28, 2003
Messages

1,765
Location
Corvette

1982 Collector Edition
Hey Guys,
as you may be able to tell, i am working on the center console there days. The car has to go to inspection in January and i figured i'd get the little stuff out of the way. :eyerole
AC/Ashtray bulb is blown, ah well. Not so easy to get here in the non GM Lands. Not a biggy, i'll get a replacement when i get back to the States. Next up:
2 out of the 4 warning lights fail the light up test at Start/Ignition. Figured, ah right, bulbs. Got a bunch of #194's and got around to taking out the center console. Forgot what a pain it is. Screw removal: 4x Check (2x on the top, 2x on the sides). Remove Knobs and levers from Radio: Check. Remove washers and weirdo screw washer from Radio knobs: Check. Unscrew passenger side carpet board: Check. Remove passenger side screw from under the middle console (only one left down there): Check. Peel out console: Check. Replace Bulbs: Check. Turn key: Same issue.
mad

ad
I exchanged bulbs around to test them. All work fine on the Battery light or the Check Engine Light. The Low Fuel Warning and the Seat Belt warning light: Whatever i did, nothing. Do you guys have any tips what else i can try? I've tried using contact spray on the little twist contacts. Also nothing. They both worked a few weeks ago.

Stefan