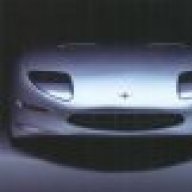 Joined

Aug 2, 2005
Messages

1,767
Location
This car is located at Texas Classic Cars of Dallas which is, believe it or not, in DALLAS! (not a suburb)
As many of you know, I do not own, and have not owned a C4 Corvette before, so I'm a little outside my realm of knowledge/expertise with this car. I primarily know the Callaway Camaros, and the supercars like the Speedster, C12, and C16, so in this case, I might as well be looking at an Audi with an LT1 in it. I'm not especially familiar with what the stock items look like (such as brakes or suspension components).
This car, in simple terms, is a Corvette with the SuperNatural 450 engine. I don't believe it has any of the other Callaway options. Perhaps it has the suspension, but I can't say for sure. I didn't really look at the suspension, but I believe some component was blue on it (if that means anything)... The owner of the dealership/shop told me he believed Callaway did suspension work on the car. I never looked it over, so I don't know.
Also, another disclaimer I should say is that I am a perfectionist when it comes to paint and bodywork, so I have a really high distaste for seeing wear, tear, and dirt. My review could be overly harsh in many aspects because I carry that bias. I don't mean to sound rude, but I can come off that way, so I apologize in advance!
The lighting in the showroom wasn't very good, so I can't be as precise with my review as I was with my Callaway C12 review last year. You may remember I rated with #s such as 9.9/10 with that car. I didn't get that good of a look at this one, so I can't do that.
Story about why it is for sale:
The owner of Texas Classic Cars, Dave, told me that the car is currently owned by a 65 year old man who is selling the car because he can't get in and out of it very easily. Dave said this man is the second owner and has some connection I can't remember to Fort Worth and some place in New Mexico (I'm a bad listener apparently). He said the first owner was the one who had the car at a driving school. They have the car there on consignment for this older man. Dave said the car had never been titled and thus has no title to transfer.
First impression/walkaround:
When I first looked over the car, I really wasn't impressed at all. To me, it just looked like a regular Corvette with funny mirrors, worn out stickers, a slightly dirty engine compartment, and really worn out looking wheels with very wide tires. In many ways, its looks reminded me of an unrestored 1980s Ferrari 308 sitting in somebody's garage-- goofy mirrors, mostly perfect red paint, and dirty enough that it's not ready to be shown at the local car show. All it was missing was a month of dust on the windshield and the smell of antifreeze and oil dripping on the concrete.
In other ways, it reminded me of my dad's '92 Corvette or my '95 Z28-- metal parts that used to be black now turning brown. Though, overall, this car looked a bit better than either of the aforementioned cars, except for the wheels mainly.
First impressions aren't always right, so continue reading my review.
Wheels/brakes:
I'm no expert when it comes to wheels, but I thought these might be ZR1 wheels. The tires were really wide, and the wheels were staggered. 275s in the front, 315s in the back. But man... these wheels were in poor shape or just plain dirty. The paint was either really wearing off of these guys, or they were just coated in tons of brake dust. I think it was a combination of the two. I didn't want to touch them to find out.
Appearance-wise, I'd add a center cap to them, because seeing the rusty innards wasn't attractive, and affected my first impression of the car.
The brake calipers appeared to be stock to me. I couldn't see them well enough to say for sure, but I know they weren't Brembos. The rotors were drilled, so I don't believe these were stock Corvette rotors.
Paint/body/stickers:
The showroom wasn't well lit, so I couldn't analyze this stuff very well. I thought the red paint looked really good. I didn't go over it very well, but I didn't notice any clearcoat damage on the roof, so I would venture to guess that most of the rest of the paint was good as well. There was a scuff on the driver's side front bumper, but it wasn't too noticeable. There was either a lot of carbon above the exhaust tips on the rear bumper, or the paint had been burnt by the exhaust. I'm not an expert in that area at all... For the car's age (13 years), mileage (35k), and use (track car), the paint was actually really good. I don't imagine the next owner would need to do any paint work to the car. Maybe just use a "cleaner" wax to polish the paint in the dirty/scraped spots, and then a regular wax to add some shine.
I didn't notice any body damage, but I never saw the car with the hood closed, so I couldn't visually check panel alignment very well. It appeared to be very good. I would say that it looked about like what a Corvette with 35k on the clock should look like. I didn't notice any wreck damage, though on a C4 Corvette, I'm not sure what the tell-tale signs would be. I had mixed feelings regarding the rear fender flares. I'm not too big of a fan of them. The side mirrors, in my opinion, have gotta go. I don't know if the wiring for the stock mirrors still remains, but I don't like the way those mirrors on stalks look. I would assume they are manually adjustable and not electric. They make the car look 10 years too old.
The stickers overall were kind of a mess. Lots of wind damage to the ones on the hatch, so I would think the next owner would want to remove those unless they were buying this car for "historical significance" or something. The CALLAWAY sticker on the hatch glass was applied on the underside of the glass, so it's just as perfect as new.
The Goodyear decals on the sides of the car didn't look perfect, but they weren't awful. I remember one of them had a little damage or a bubble or something in it, but can't recall which one. Maybe it was the driver's side rear one.
On the rear bumper, the Dances with Snakes decals and the CALLAWAY ones looked very good. I would say perfect.
Engine/exhaust:
Good lord did this engine sound good! When Dave told me the car had never been titled and was used on the track, I expected a World of Outlaws sprint car sound. :ugh
I was pleasantly surprised to find that the car didn't have open headers, an exhaust cut out, or gutted cats or mufflers. It sounded like a brand new LT1 with higher displacement and more WOOMP! to it. :J
My camera picks up a cyclical washing machine type sound when it records cars our ears don't normally pick up, so it isn't a good representation of just how nice this car sounded. I would describe the sound as PERFECT. It sounded just like my stock Z28 but with the volume turned up. Really great, deep sound. The cam was gentle as well, it didn't cause my heart to beat irregularly like many "tuner" cars. I am almost hesitant to say this, but I almost wonder if the cam is less aggressive than the stock Z28 cam :confused. The car idled really, really well, a lot better than my car.
Other than sound, the engine looked to be in good shape, just a little dirty. It could have used a spray and rinse. Dave told me it had no leaks, not even a rear manifold leak. I noticed the driver's side fuel rail cover looked to be popping off at the rear side. I don't know how these are attached since my car lacks FRCs, but the perfectionist inside me would have attached that correctly before I put the car up for sale.
The CALLAWAY logo valve covers are really nice. I like the way they look. The throttle body cover plate is upside down I think, so that bothered me a little. Maybe I'm just used to it being the other way around on the Camaros, and this is the correct orientation on the vettes.

The exhaust system was really dirty. That's about all I can say about that. I'm not sure if it has Callaway exhaust or not, the tips are somewhat double-D, but I'm inclined to think this isn't a Callaway system... It didn't look anything like the system on the C12.
Interior:
The interior looked to be in fairly good condition besides the love it or hate it steering wheel and shift knob. Dave said the owner had the original steering wheel and shift knob at home. He didn't know if the alternate shift knob was a Callaway anodized aluminum one or not.
I didn't get inside the car, but it looked alright. It could use a set of floor mats and could benefit greatly from a detailing. A little leather cleaner and carpet cleaner could go a long way, but at least it had been vacuumed and lacked dust. Again, I'm a little too picky sometimes. :ugh
Conclusion:
The car overall seems to be a good car, but it's not very presentable currently in a dealership showroom type environment. Someone really needs to grab a toothbrush and clean it up! It'd be acceptable if I was looking at it in some guy's garage, but in a showroom, it just looks like a used car with used dirt and grime on it.
If you're a fan of big power and driving fun, then this is a good car for you. If you're looking for a showcar, you'll need to clean and polish it up, but it has a lot of potential. If you want to leave it as is, it's a good car, but with a few changes and some heavy cleaning, it could be a great car. This car has a lot more "go" than "show" so I think it'd be a lot of fun to take to a race track.
Hopefully my review doesn't sound too negative, but I already knew before I went and saw the car, that this car wouldn't be my cup of tea. My cup of tea would have the aerobody, hood, and custom interior. To me, this was just a Corvette with a cool engine.
...and WHAT A COOL ENGINE! :W
(Pictures and videos to come in the next post).