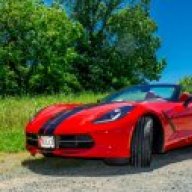 Joined

May 13, 2003
Messages

610
Location
Corvette

2014 Convertible
For Sale: 2002 Corvette Convertible; Four Speed Automatic, Electron Blue with Light Grey interior and black top. One owner car,
PRICE $22,000.00
based on mid point of Edmunds and KKB, to have very fair priced car to sell quickly. If you see the car you will buy the car, it's still drives like new. Title is clear.


•
Total Miles 30,300,
yes only 30,300 miles, used on weekends, never commuted to work with car, just a fun car.
• Garage kept, non-smoker, excellent condition, two original key remotes with keys, complete set of original user manuals in original leather case.
The engine has never been modified or touched in any way, pure stock, only intake and exhuast was added.
This is an extremely clean, well maintained Corvette, NEVER RACED, always maintained in the highest standards. No problems of any sort ever. Used for Club Cruises and Car Shows. I think it has been in the rain on three occasions. Reason for sale: Going to purchase C7.
Original Factory Options:
• 1SC Convertible that includes: sport bucket seats, six way power passenger seat with memory, electronic A/C, fog lamps, memory package, twilight sentinel and electrochromatic mirrors, plus heads-up display, Bose System, and power telescoping steering column, electric rear window defroster.
• G92 Performance 3.15 Axle
• QF5 CHROME (not polished) Wheels
• R8C Corvette Museum Delivery (Museum Delivery Sticker still on driver's side door and will give you plaque.)
• U1S Remote 12-Disc Changer
After Market Options:
• Corsa Performance Exhaust with GT Tips (Polished)
• Corsa "X" or Crossover Pipe
• K&N dual Snorkel Intake (powder coated blue to mach car)
• Many Custom Made Chrome Engine Covers (Not available anymore)
• Side electron blue painted fender covers, overflow, radiator cover, and window wash cover. All polished fluid covers
• Classic seven fin fuel covers pluse the original covers too.
• Intake cover painted silver with 63 hand painted nose logo
• Special Chrome Corvette C5 Emblems (very rare) front, back and on waterfall
• Made by my friend Ken King (Corvette Essentials) for me the matching interior leather pieces including all in grey/black:
o Steering Wheel
o Center Console Cover
o Shifter Cover and Emergency Brake Cover
o Shift Knob
o Aluminum Foot Rest and Gas Peddle
o One of two ever made leather covered roll bars by Ken King
o Seats with two black strips, two 'saddle bags' for storage one on drivers side and passenger behind seat.
• Front clip with C-5R spoiler and side canards, with white lights and polished insert grills. Have the original License plate "Corvette" cover for front in Electron Blue.
• Dual Silver Strips with Heritage Red Hash on Drivers Side
• Engine Liner painted by Paula
• Lloyds floor mats with C5 logo and trunk mat with logo
• Remote Key Valey, lowers or raises windows. Makes putting up or taking down the top easy. I will include a garage car dust cover.
Goodyear Eagle 1 Tires, excellent tread.
Perspective buyers. Simply put, I love this car, and am in no rush to sell. I would love to purchase a new C7, but must sell this Corvette, as I only have a two car garage,and will not put this car out in the elements, I would rather let it go to a person who will find as much enjoyment as I have when driving this car. It NEVER fails to put a big smile on your face and turn heads. The car is what you see, I have nothing to hide, nor am I exagerating in any way about the condition and items on this car. It was a very hard decision, I did offer it for sale several years ago, but only kept the post of for four hours and could not go through with the sale. This time, I will sell to the right person. Thank you for looking and considering. To that person who is interested I live in Northern Virginia outside Leesburg. Please email me
o2bquik@comcast.net
or PM me here and I will respond. Thank you....
Collin MacDonald
Ebvette
Last edited: