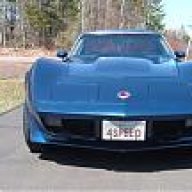 Joined

Sep 13, 2005
Messages

307
Location
Corvette

1974 Metalic Blue L-48 Coupe 4 speed
Have a fellow here that has a 2005 automatic, 14,000 km on it.
The problem is: driving along and without any warning the car shuts off!
Coasts it to the side of the road, puts it in park or neutral, pushes the
start button and it fires right up. Off he goes. Has the car in shop now
and they haven't been able to correct the problem. He
said it stalled on their floor as it was idling. Don't know if any codes
were showing or not, he didn't say. Wondering if anyone in here has
heard of this being a problem or if any C6 owners have experienced it? Can someone help us?