2023 SUPER SEBRING
Mar 15 to Mar 18, 2023
Sebring, FL
Track: Sebring International Raceway
Race Duration: 12 hours
Circuit Length: 3.74 miles
Television & Online Broadcast:
IMSA Entry by Class:
GTP (8)
LMP 2 (8)
LMP3 (10)
GTD Pro (8)
GT Daytona (20)
Thursday, March 16, 2023 World Endurance Championship-1000 Miles of Sebring:
Qualfying: GTE AM: 6:45 pm-7:00 pm EDT
March 17, 2023 IMSA 12 Hours of Sebring
Qualifying: GTD Pro - 9:15 am-9:30 am EDT
Watch live IMSA TV
https://imsatv.imsa.com/
Television/Online Broadcast:
WEC: Friday March 17
USA:
TV-Motortrend channel and MotorTrend Plus
11:30 am -3:00 pm ET part 1
3:00 pm - 6:00 pm ET part 2
6:00 pm-7:00 pm ET part 3
7:00-7:30 pm ET part 4
(1000 miles or 8 hours)
International: Eurosport
Canada: Velocity Channel
Radio Le Mans will cover practice, qualifying and the race
IMSA: Saturday, March 18
TV & online Coverage
10:05 am -10:10 pm ET Peacock
4:30 pm. -10:30 pm ET USA
International Viewers can watch on IMSA.com:
http://imsatv.imsa.com/
10:05 am to 10:10 pm
IMSA Onboard Streaming:
http://www.imsa.com/camera/imsatv
IMSA LIVE TIMING:
IMSA Live Timing for mobile device:
FIA WEC live timing:
RADIO:
IMSA
1) Streaming on IMSA TV
http://imsaradio.com/
2) Scanner frequency 454.000
3) SiriusXM 392
4) SiriusXM Online 992
5) local 99.1 FM, 730 AM, 1050 AM
WEC
PIT NOTES:
http://twitter.com/
@PrattMiller, @IMSA, @IMSAlive, @Sebringraceway, @FIAWEC
TICKET INFO:
https://www.sebringraceway.com/tickets/
(Corvette Corral sold out)
Event Schedule:
WEC & IMSA:
https://www.sebringraceway.com/2023-supersebring-schedule/
IMSA:
https://www.imsa.com/wp-content/upl...ficial-Schedule-and-SR-Sebring-12H-030823.pdf
IMSA Spotters Guide: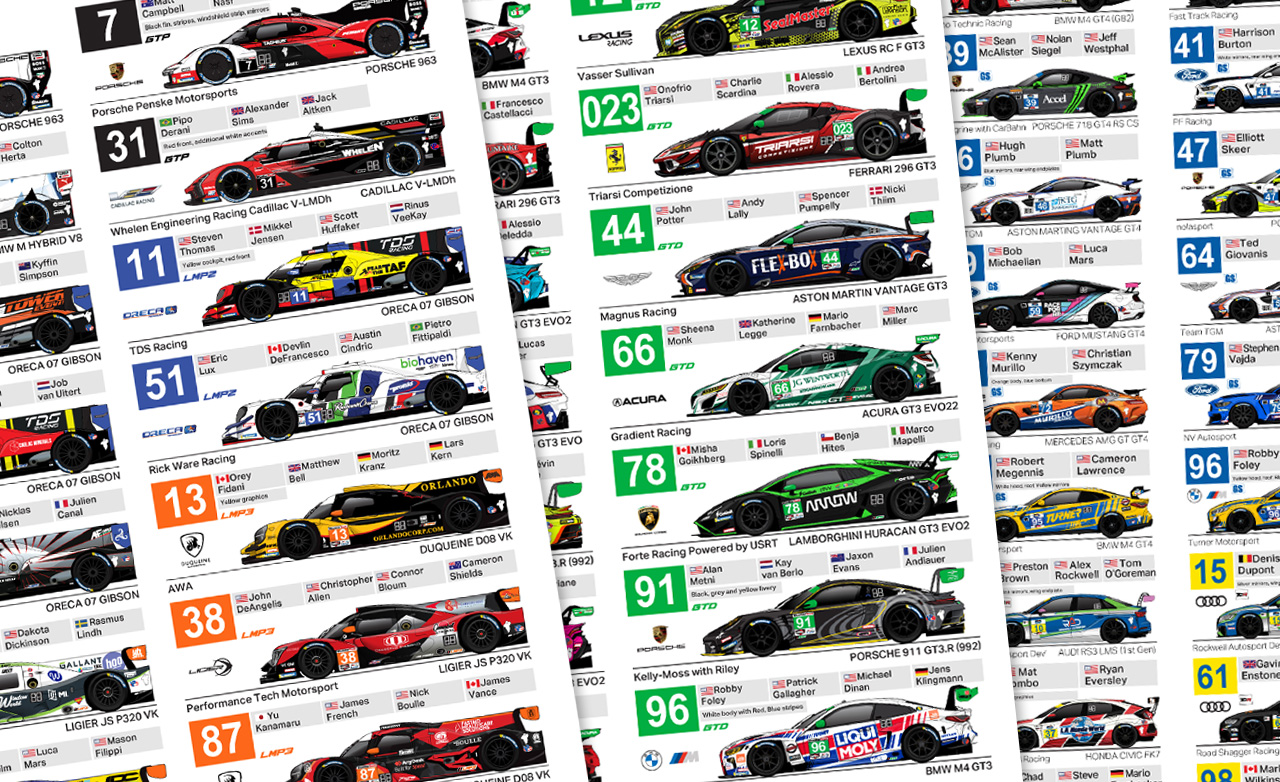 IMSA Spotter Guide, featuring 2022 WeatherTech SportsCar Championship, & the Michelin Pilot SportsCar Challenge starting with the Rolex 24 at Daytona.

spotterguides.com
Entry List:
WEC:
https://www.fia.com/sites/default/files/2023_wec_sebring_entry_list.pdf
IMSA:
https://www.imsa.com/wp-content/upl...8/2023_IWSC_Sebring12h_PreEvent_EntryList.pdf
IMSA BoP:
https://www.imsa.com/wp-content/upl...34-Sebring-Data-Stick-Collection-03142023.pdf
Track Map:
https://www.imsa.com/wp-content/uploads/sites/32/2023/03/01/Sebring-12HR-2023-Track-Map.pdf
IMSA Pit lane Assignments:
WEATHER:
Sebring, FL Weather Forecast and Conditions - The Weather Channel | Weather.com
Racecast Weather - Your Source For Race Weather Information
Hotels:

We have the ideal range of accomodations and amenities from luxorious to local charm. Check out our family-friendly resorts and historic homes!
visitsebring.com
Corvette Corral: see below