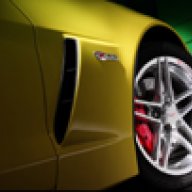 Joined

Jan 15, 2004
Messages

2,240
Location
Corvette

1987 Z52 Black Convertible
1994 GMC Jimmy, It has almost 190k on the clock and has been very well maintained. Now the problem.

Yesterday I had it in 4Hi and 4Low fine, went in and everything (it is the electronic push buttons for 4Hi, and 4Lo). Now today it doesn't seem to want to go in. Now what it does, and only does if you are in Neutral is if you push 4Hi both light up for around five seconds and it clicks off. You cant even her the actuator or whatever it is engage the the front tires. I even tried to engage 4Hi driving doing 10-15mph and no flashing no clicking nothing.

Now if you push 4Low, the lights do the same flashing thing and go off, but you can hear it engage the fronts, and it is in 4WD. Weird thing is no lights come up. I've drove it down the street thinking it would light up but nothing, and it stays in 4WD. Then I pushed in the 4Low button and it flashed, and I could hear it disengage. I did this several times and it all worked the same. I couldn't even go from 4Low, which id assume it is, back to 4Hi.

Could it just be in the switch on the dash?
​