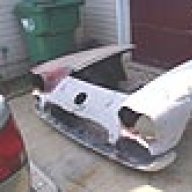 Joined

Jun 18, 2003
Messages

475
Location
Corvette

'59 Corvette #5366
A Place For Everything, And Everything In Its Place...
In October of 2005, the '59 Registry made the owner of car #1390, Mike Hamilton, a very happy man. With the help of another member of the '59 Registry, it was discovered that his car's window sticker was located in the October 1959 issue of Motor Trend magazine. Mike had some background on his car beforehand, but nothing as significant as that- As you can imagine, Mike was pretty happy to learn this news. More on this discovery
here
.
As of today, a similar reunion of car and history have taken place, this time with car #8878. A member here at CAC, Tom Bryant, advised me that he knew of the current owner of this car, and provided me with the details to update the listing at the '59 Registry- When I went to the existing details for that car that I had, I recalled that I'd highlighted from a 1995 Driveline magazine issue, that a man named Ralph Spears happened to have the original bill of sale and some other docs for this car. His goal of the ad was simply to get the docs to the current owner of the car, to help provide a flashback of where the car had been in its life (a dream virtually any classic car owner hopes for when they buy a classic). I provided the ad details to the current owner of the car, and he and I both reached out to the phone number on the 11-year-old ad, hoping the contact info was still accurate. Surprisingly, it was, and tonight the current owner of the car, and the current holder of those documents, had one helluva phone call. I don't want to give away all of the specific details just yet, because the 2 have decided to join forces and tell their stories together in a unified form, which I will present when the time comes. However, this was too big to keep under wraps until then.
I had to post this update here, as I knew the above examples would provide continued hope to those of you, who are currently undergoing the same quest. It only goes to show that patience will be worth its weight when you finally find that small lead.. the one that points you to the history of your Classic. Until then, keep hunting!
Best Regards,
Jim