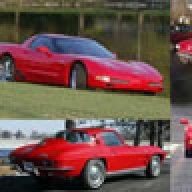 Joined

Oct 11, 2003
Messages

1,895
Location
Corvette

15 Z06, 01 Vert, 63 SWC & 60 ALL RED
I have made some other stuff for the garage walls and decided I needed to add a banner for the '63SWC. When I get it on the wall I will post some photos.....in the mean time here it is on my floor....
it is actually 74" X 39"........
How do I do it?
I take the photo in high resolution and then in photoshop I adjust and cut everything out that I don't want.....I even darken the windows slightly so that you can't see the grass hill on the other side of the car.....then I turn the file into an even BIGGER file (like about 25MB to 100MB).
Make sure that the dimensions of the banner in the file are the same dimensions of the finished product that I want....
Upload it to the printer and call him to tell him what I want.
He takes it from there....
I should add that these banners in my opinion are best used hanging indoors, up on a wall. The process of making them has an injet printer that prints the photo on the vinyl. If this was something that someone wanted to hang outside or wanted to take to car shows etc, I would have a conversation with the printer first.
if anyone wants a banner, PM me and I will let you know who to contact to get one.
if anyone wanted to make a 20"X30" poster for a wall, I would be glad to work with them to get that done. Sams Club prints 20X30 for about $10 each.....I am not sure if I could upload the file to them and get them to print locally, say in California or other locale. If so, that would save on the postage. I get a lot of prints 20X30 done at Sams. You can get frames at WalMart that are 20X30 (ok, not wood and not metal, but good enough fo rthe garage walls) for about $12 to $15 if you wanted to frame it.....also 8X10, 11X14, 16X20. Their printer that they use for enlargements is really top notch in terms of color and clarity.​
I would be glad to work with anyone that might want a print....​
The banner above is the second banner that I have done for my garage. My first banner that I did was a shot of the '60 vette that I took and was later used in the article in Vette magazine I wrote.​
If anyone has other ideas for posters or banners and you have high resolution shots of your car, I would be glad to work with you to get a banner or poster of your car.​
ok, if anyone is interested, I have these uploaded to a file server that everyone can get to....if you want access to the files, please PM me and I will pass along the details on how to get the files....
11 x 14
16 x 20
20 x 30
20 x 30 alternate
the aspect ratio of the original banner required fussing with the wording/font size in order to get it to fit a print that was taller than wide over the original banner I made....
I also made the original banner into a sticker for the back of my trailer. I will post my trailer tattoos in the near future.
Questions? let me know.....
Herb