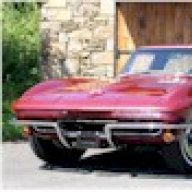 Joined

Apr 2, 2004
Messages

4,611
Location
Corvette

1965 Coupe L76 / 1978 L82
hi all
it's been a few weeks but finally time for an update.
Because of our clubs annual car show 2 weeks ago and than other obligations by most of us last week it's been a few weeks since we have been able to work on the car but this weekend we got some more accomplished.
Yesterday (Saturday) Mike, the car owner, and his brothers and father came over and did some work and gor the radiator, shroud, fan, and fan clutch installed and a few other items done.
today (Sunday) only Mike, one of his brothers, and I were able to be there but we loosened up the radiator install they did yeaterday and installed the new radiator seals and buttoned up the radiator again. We also got the power steering pump hooked up, rocker panels installed on the body, brake lines reconnected to the master cylinder, and a lot of the vacuum lines and electrical connections done.
Geez, I had conveniently forgotten from when I did my '78 just how much of a PIA all those vacuum lines are......
Next week we are planning a BIG week and hopefully (fingers crossed) we MIGHT get to the point of finally trying to get the motor fired up.
The "to-do" list is getting shorter but it still has a good number of items on it such as:
finish up the vacuum and electrical connections
finish up connecting the coolant/heater hoses
reinstall and connect the tranny hardlines to the radiator
install the complete exhaust system
refill all fluids including filling and bleeding the brake system, coolant, power steering pump, and changing the oil and oil filter.
finish reconnecting and bolting together the steering coupler
repair the steering column inside the car
No doubt a few more other items that I'm not remembering at the moment
pictures from today are here:
keep in mind we did NOT do any work/repairs/cosmetic improvements to the motor/engine bay so these pics are not pretty but they show the radiator reinstalled and the progress so far on the vacuum and electrical connections, etc
http://www.vetteclub.org/1980_Project/projectpics11.html