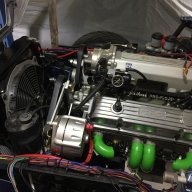 Joined

Dec 19, 2010
Messages

188
Location
Corvette

1984 Two-tone Blue Coupe
Hi guys,

I put in a new Felpro rear seal and one piece gasket today, as I have done a few times before.

The bell housing plate was a b1tch to get back on, but everything else was fine.

The oil pump and shaft went back in ok, the rear main went back on and I torqued it as normal.
Thinking about it, I am not real happy with the torque on the rear main, hoping that my issue isn't a main bearing issue.

I topped her up with new oil and a new K&N filter.

I cranked her slowly to help prime everything again and then let her fire up.

I have oil pressure, the top end would be rattling off its head if I didn't, but I was looking for a low oil light and forgot to check the pressure on the IP.
Just went back up to the shed and fired her up, yes oil pressure and good as normal.

I have a metallic sound coming from the engine. I reckon it is the bell housing plate.
I don't think there was a problem with the oil pump shaft, it seams as though it went back ok, it wouldn't have bolted back up if there was a shaft mismatch.

Dunno, got me buggered, thought I might post and sleep on it until the morning.

What do you guys think???????