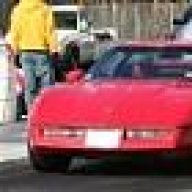 Joined

May 25, 2005
Messages

59
Location
Corvette

1987 Red Coupe
Before posting this I did a search about my problem and did not find a possible solution

I have a 87 Vette. This past March I installed a line-lock for drag racing. The install went smoothly and the line-lock worked correctly. I also autocross the Vette. While going through an autocross course I make frequent use of the ABS. And the ABS worked fine.

Recently at the drag strip the line-lock locked up and did not release. When I finally got the system to release the ABS light on the dash lights up. The line-lock system works now, but the ABS doesn't.

I thought there might be air in the system so I bled all 4 calipers. Took the Vette out for a test and slammed on the brakes and the ABS kicked in. As soon as I came to a stop and removed my foot from the brake pedal the ABS light came on again. So I bled all 4 calipers again and tried to reapeat my test, but now the ABS light comes on as soon as I pull out into the street.

I don't know what to do next. Any ideas?